[07 MAR 01] CRIMES, FIRES & ACCIDENTS
Sex Shop Plan For Coventry City Centre
Large sections of Coventry city centre were sealed off this evening as bomb disposal experts were called in to investigate a suspicious package.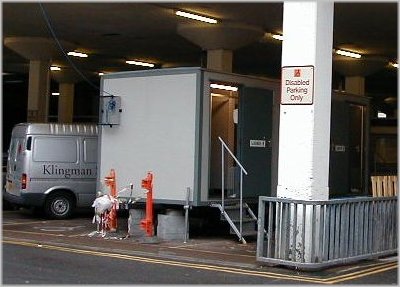 THE AREA AROUND THE BARRACKS CAR PARK WAS CORDONED OFF TODAY
The area around the Barracks car park was sealed off shortly after 4pm when a woman noticed a strange device under her car.
Shops joining on to the car park area were closed and roads including Hertford Street and New Union Street were shut.
Staff in some parts of Broadgate House were evacuated from offices overlooking the car park.
But those in other parts of the building, including CWN, were not informed that there was an incident and found themselves emerging from the building in the middle of a cordoned area.
Bomb disposal experts were called in to look at the device under the car.
A police spokesman said the device had been described as a "torch".
A 14-year-old boy was badly injured recently when a bomb disguised as a torch exploded in his face.
UPDATE: The all-clear was given shortly after 6pm.