[12 MAR 01] CRIMES, FIRES & ACCIDENTS
City Hotelier Attack Is Attempted Murder
A vicious and unprovoked attack on a Coventry hotel owner is being treated as attempted murder and could have been racially motivated.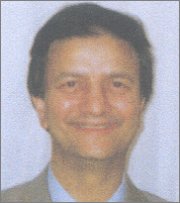 Khurshid Naqvi was set upon by two white attackers outside his home in Stoney Road, Cheylesmore at 2.40am on Friday.
Dr Naqvi, who lives in a house next to the Falcon Hotel with his wife, two daughters and son, was woken when he heard the hotel's doorbell being rung.
He opened the window and called out to the men at the hotel door that there were no vacancies.
He then put some clothes on and went to talk them.
Dr Naqvi's wife and daughter both then heard screaming and shouting and looked out of the window to find that he had been attacked.
Mrs Naqvi gave chase, but lost the men and returned to look after her husband, who had been beaten, possibly with a blunt weapon.
Dr Naqvi is said to be in a critical condition today. He has undergone four operations on his brain and his family are at his bedside waiting anxiously to learn if he will survive the attack.
DCI Dave Mirfield appealed for witnesses to come forward.
He said:
"It may be that there were some around who have vital information and simply do not realise it.

"The address is close to the railway station and not far from a nightclub. It may be that people were returning home that night and heard some shouting and screaming and did not realise what was happening.

"The family are devout Muslims and we have to assume that the attack might be racially motivated, but we are keeping an open mind. It could have been an attempted burglary."
DCI Mirfield said a bunch of keys belonging to the hotel were found in Little Park Street that day, and were handed in.
He called on the unknown person who returned them to the Little Park Street police station to come forward, as they might have information about where they found.
Two men are in custody and are helping police with their enquiries, but DCI Mirfield stressed more witnesses are needed.
Anyone who can help should call 024 7653 9040 ext 7653 9040 or Crimestoppers on 0800 555111.
SEE [09 MAR 01] MAN SERIOUSLY INJURED IN CITY HOTEL ATTACK