[15 MAR 01] CRIMES, FIRES & ACCIDENTS
Helicopter Used In Attempted Murder Hunt
A mobile incident room is to be set up near a Coventry hotel whose owner was viciously attacked and a helicopter brought in to try and find clues in the hunt for the culprits.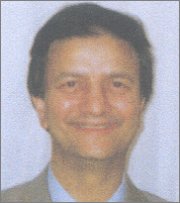 Khurshid Naqvi remains in a critical condition following the assault last Friday outside the Falcon hotel in Manor Road at 2.40am.
Detectives are treating the incident as attempted murder as two men set upon him when he went from his neighbouring house to answer a ring at the hotel door.
Dr Naqvi has undergone several operations on his brain and it is still not clear if he will pull through.
A mobile incident room is to be set up by officers outside the hotel on Friday, and police are to conduct roadside checks to try and find more witnesses.
DCI Dave Mirfield said that an aerial search of the area was also being carried out in the hunt for clues.
He said:
"The two men that were previously arrested have been released without charge.

"I'm still appealing for anyone who was in the location around the time of the attack who could help in any way with our investigation to come forward

"We are planning to continue with aerial searches with the force helicopter which will also be taking aerial photographs to help in the investigation."
During the attack keys to the hotel went missing. One bunch was found near the Belgrade Theatre, while another was found in Little Park Street.
DCI Mirfield re-appealed for the person who handed the keys in to police to come forward, as they might have important information that could help officers.
An incident room has been set up at Chace Avenue and can be contacted on 024 7653 9800.
SEE: [12 MAR 01] CITY HOTELIER ATTACK IS ATTEMPTED MURDER