[29 JUN 00] WARWICKSHIRE CONSTABULARY NEWS
New Top Cop For Warwickshire
Warwickshire Police has a new top cop – with the appointment of the deputy from a neighbouring force as chief constable.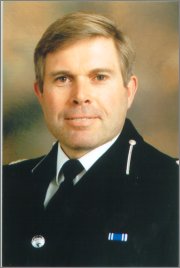 John Burbeck has been given the job, based at Leek Wootton, subject to a full medical clearance.
He will be moving from his role as deputy chief constable for West Mercia - covering Worcestershire, Herefordshire and Shropshire.
John Rennie, chair of Warwickshire Police Authority, said:
"All four short listed candidates were of the highest calibre. It was an extremely tough job to select the one person with the strength of character, experience and qualifications to take the constabulary forwards after the difficulties of the last year.

"Warwickshire Constabulary has a reputation for excellence and best value and we are looking forward to having a Chief Constable in place once more.

"The Authority wishes to thank Mick Brewer and his staff for their support and hard work during a difficult time.

"Every member of the Police Authority is looking forward to working with Mr Burbeck and to continue delivery of the highest quality police service to the people of Warwickshire."
The new chief constable said:
"It is wonderful news for me and my family that I have been selected to lead Warwickshire Constabulary.

"I am very much looking forward to working with all the staff and members of the Police Authority to provide the best police service we can for everyone who lives in or comes to Warwickshire."
Mr Burbeck, aged 51, is married with four children. He was awarded the Queen's Police Medal for distinguished police service in 1999. He has also worked for the Thames Valley and Metropolitan police.
The authority spent Monday and Tuesday interviewing four people for the job to succeed Andrew Timpson and Peter Joslin.