[08 AUG 00] WARWICKSHIRE CONSTABULARY NEWS
New Top Cop Will Put More Bobbies on the Beat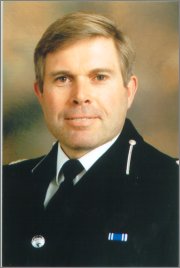 The public expects to see more uniformed officers on the streets of Warwickshire - and the new chief constable pledges that is what they will get.
John Burbeck started his new job yesterday in charge of the force. He will spend the first three weeks touring the county and visiting each of the 13 policing sectors.
He is keen to make himself, and his officers, visible to the public and wants to see them out of the offices and in public view.
Mr Burbeck, aged, 51, was number two at neighboring West Mercia and got the job to succeed Andrew Timpson, the short-lived chief who had to go when it was found he was unfit for work.
He has pledged to carry on the review to free up resources to get people out on the streets.
But Mr Burbeck came out with his own view on financing - something former chiefs Andrew Timpson and Peter Joslin would never have said.
They were quick to shout that Warwickshire was underfunded, and called for more money.
Mr Burbeckšs view is markedly different. He sees his job as spending the money wisely, leaving the politicians to raise the budget for him:
"It is the police authorityšs role to do the lobbying.

"We can give a good level of service with the money we have, and we will make the best of those resources."
His own priorities include telling the public what a good job they are doing, rather than bleating about lack of money to get on with it:
"We need to get in touch with the public. Perhaps one problem has been that we have not been that good at telling the public about the good work we have been doing - such as the number of criminals we have been catching."
As for talk of merger, either with all or part of the West Midlands, or parts of the county hived off with Leicestershire or Northants, Mr Burbeck said that is looking increasing unlikely.
New Government arrangements mean the bodies for managing the police, the county and the Crown Prosecution Service all have co-terminus boundaries - so that a Warwickshire police force will be matched by a CPS and court service covering exactly the same area.
As those new bodies are established, or are underway, it is less likely that boundaries of any of them will be changed in the near future.
And all forces are working together more and more. The new top cop said:
"There is a lot of collaboration between the police forces - more than there was two years ago.

"We work together more with training and recruitment and sharing resources.

"The reasons for amalgamation, if they have not disappeared, have certainly been watered down in last two years."
So why did he want the job of top cop of virtually the smallest force in the country, that is as likely to hit the headlines for the bizarre behaviour as his predecessor as the claims of sexual discrimination by leading female officers. He said:
"I wanted to be the police constable of a county like Warwickshire.
"I have worked in counties that adjoin Warwickshire and I like a community based on a mix of towns and rural villages."
His priorities are to 'increase public confidence' and 'provide a better service'.
He praised Operation Impact that started to eat into the rising tide of burglaries in the county - one of the few areas where Warwickshire crime levels rose in the recent annual crime figures.
Another project underway - with a potential for a review - is the scheme to create a super police station in both the north and the south for most police functions.
And that would leave 'police shops' where public could talk to officers, report crimes and take documents in the other towns.
It would mean centralised police stations in Nuneaton and Leamington, leading to fears over the future of stations like Coleshill, Stratford, Rugby, Kenilworth, Warwick and Bedworth.
But there was the previous pledge there would always be a 'police presence' if the main station was taken away or reduced.
Mr Burbeck is keen to explore the idea of one-stop-shops where councils and police save money and share one building. This has been outlined for Kenilworth for some time.
Mr Burbeck said it was was too early, on this first day, to go into detail about whether this would carry on, but he gave a hint. He said:
"Under Andrew Timpson there was a rationalization, and that work that HAD to be done.

"I see no reason to tie up resources in police stations where no one is coming in or where officers would be better off on the beat.
He will not be hanging on to un-manned police stations at the expense of putting officers on the street. And how will he get more people out on the streets? He said:
"If there is a cheaper way of doing it than using a police officer and it would free up individuals then it is something I am interested in looking at."
That could include: civilianisation of posts, sharing resources with other forces, or contracting out work.
And his first day saw him out talking to his staff - made up of about 930 officers and 250 civilian staff. He said:
"I am looking to get out and meet people and hear what they have to say.
"I have been out meeting community beat officers today and they are telling me what is gong on. I want to listen to peoplešs ideas.
"I want to take decisions, based on what is gong on, rather than listen to hearsay."
Mr Burbeck was awarded the Queen's Police Medal in the 1999 New Year's honours.
His is married and has four children. He lives in a farmhouse on the Warwickshire/Worcestershire border.
The man who oversaw the investigation into the killing of French student Celine Figard in Worcestershire is a keen sailor, and has been skipper of the West Mercia Police off-shore a sailing boat.
He joined the Metropolitan Police in 1972 and served for 15 years, and then moved to Thames Valley. and in 1994 on to West Mercia.
In his time there, he reviewed the way the force dealt with house burglaries - leading to a 50 per cent reduction and changed the way in which telephone calls from the public were managed.
This skills will come in handy as Warwickshire had to take urgent action to tackle the rising number of house break-ins and many feel action is needed on that way it handles 999 and general inquiry calls.
The number of call answered quickly fell significantly after the introduction of the central control room at Leek Wootton.