[04 SEP 00] WEST MIDLANDS POLICE NEWS
Help Find Top 10 Most Wanted Robbers

Robbers on the loose in the West Midlands have been named by police who have put photos of suspected offenders on the Internet.

The images were put up yesterday, and today the chief constable is unveiling bus and taxi advertising to promote the site.

They want the public to phone in with information if they know where the suspects are hiding - but stress the arrests should be left to the police and the public must not approach them.

Each of the 10 Most Wanted is named, and shown with their photographs and details of where police think they may be living now or have links.

The first phase of 10 faces has just been posted. They are of people suspected of taking part in street robberies.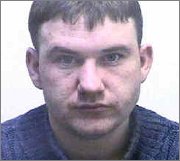 One is known to frequent the Coventry area and is wanted for being a suspect in an armed robbery at a housing office where a gun was used.
The site said William Dixon, aged 31, (pictured right) also goes by the names Adrian Smith, Dean Smith, Nicholas Treadwell.
He is known to visit Coventry, Solihull and surrounding areas. He has a tattoo with the name Billy on his right arm. The site said:
"It is alleged that in March this year Dixon entered a housing office in Chelmsley Wood and threatened staff with a handgun, demanded money and assaulted a customer before making off with approximately £4,000 cash.
The force is believed to be the first in the country to take this initiative of publishing details of offenders for the public to view. The Government has given £3.3 million to support the project to crack down on street robbery.
Chief Constable Edward Crew said:
"Street robbery is a very serious crime and one that we are committed to tackling. Initially Safer Streets only concentrated on Birmingham where the majority of these crimes occur.

"However, the success of the operation and additional funds from the Government has now allowed us to take force wide. We are making the names and pictures of these 10 people available to the public in order to show that we are very serious about the initiative.

"This is not a 'flash in the pan'. Although Safer Streets is being expanded force wide today it will continue without time limit. We are determined to make a difference across the West Midlands."
Police are working with businesses and retailers to raise awareness of street robbery and a major marketing effort is launched today.
Mr Crew said:
"We are trying to tackle as many parts of this issue as possible.

"We will encourage the courts to take a tough line with offenders, we will be working with the public and other agencies to help people stop becoming victims and we will improve and streamline our methods of dealing with victims and criminals."