[23 MAR 01] CWN NEWS
CWN Collects Regional Media Award

CWN has scooped a prestigious award in the BT Regional Media awards despite having a fraction of the resources of its rivals.

The site was Highly Commended in the website of the year category of the Midlands awards.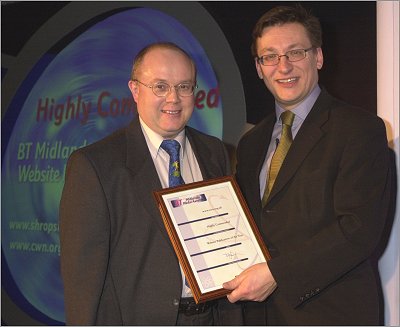 CWN EDITOR CHRIS STUDMAN COLLECTS THE AWARD FROM TIM JOHNS, BT DIRECTOR OF MEDIA RELATIONS
Judges praised its news content, local links and the what's on section at the ceremony in Birmingham.
CWN started as a small community site six years ago, and has grown to attracting 120,000 readers a month.
Many people visit the site regularly to look at the daily news and web cam overlooking Broadgate, but thousands more use it as an archive site.
With more than 20,000 pages of news and information about Coventry and Warwickshire, it offers the biggest on-line resource in the area.
CWN made it through to the final three despite just having one reporter, and editor Chris Studman, who collected the award.
He said:
"To win this award is a fantastic achievement for such a small company. We were up against large newspapers with huge resources and we didn't expect to get this far at all.

"It shows what can be achieved on the web even with limited resources.

"CWN is establishing itself as a highly credible and reliable news source for the city and the county.

"I'd like to thank all the staff who have worked on the site over the past few years to get us where we are today.

"We are obviously indebted to all the people around the area who tell us what's going on.

"And most importantly are our readers, from Coventry to Canada, who visit us time and again and tell us how much they are enjoying the site."
The winner of the category was the Wolverhampton Express & Star's www.westmidlands.com with www.shropshirestar.co.uk also being highly commended.
No other Coventry media were represented at the awards, although former Evening Telegraph chief feature writer Paul Dale was highly commended in the Business Journalist category, and former health reporter and feature writer Alison Handley collected the Sutton on Sunday's highly commended award in the weekly newspaper of the year category.