COVENTRY INDICATORS - ENVIRONMENTAL

Litter on the Streets




Everybody wants to live in a litter-free environment. Clean streets are important to how good we feel about where we live, and litter in the streets where we live or in the city centre contributes to how we feel about our quality of life.
The results from Cleanliness Standards Surveys undertaken by the Tidy Britain Group in Coventry City Centre are used as indicators to demonstrate the quality of our streets.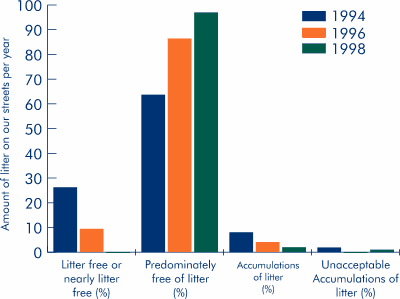 Surveys are not undertaken every year but are available for 1994, 1996 and 1998. The results show there has been a movement from litter free sites to sites predominately free of litter (no Litter Free Zones were found in 1998).
There has been no significant change in heavily littered sites and a decrease in sites with accumulations of litter.