[06 SEP 00] BELGRADE THEATRE NEWS
City Actress Takes Lead in ska Music Story
BY ARRYN BUGGINS

A convert to the sound of ska is an actress who was barely around when 2-Tone was all the rage, but now takes a leading role in a play about how it put Coventry on the map.

As one of the five actors in the Three Minute Heroes show opening next week, Lindi Smith takes to the stage in her home city, giving her first major role in a professional show.

It was a strange coincidence that the auditions were in London, and Lindi was in the capital at the time for her RADA course, but the play was for a Coventry story set in the city's main theatre.

Set in the 1979-81 era of ska music, the fictitious story uses Coventry and its locations and music for a tale about five youngsters, their lives and their music.

Lindi, aged 23, has appeared at the Belgrade before mainly musicals and youth performances, including Chicago, Godspell, and Boy Band.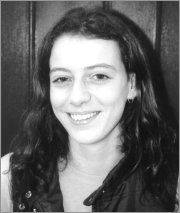 She said the Three Minute Heroes show there is a thirst for local plays for local people, and building on from The Blitz last year, future productions about Godiva for the Sky Blues would not go amiss.
Could this show follow Return to the Forbidden Plant and hit the West End and tour?
Lindi said it has that potential and not just for this country, as the sound of ska is far from a distant memory in the US.
The former pupil of Coundon Court and Bablake School said:
"They all seem to know The Specials over there and they are more into the 2-Tone than we are in Britain today.

"Perhaps it is the American idea where anyone can make a go it.

"I am not saying you don't have to be talented, but 2-Tone was about ordinary people getting up and having a go.

"It really does mean a lot to me that my first big show is in Coventry, and about Coventry."
While the two-hour show featuring 20 numbers – all the real 2-Tones hits – has proved 'physically demanding' Lindi has got off lightly in one department.
The three northerners and a Londoner have had to get to grips with a Coventry accent, Lindi of course has already perfected hers.
She has helped her fellow actors with their vowel sounds, and they had to be told to forget their preconceptions of talking Brummie!
Lindi admits that, at her age, the 2-Tone music meant little to her ahead of this show, where she won the part in April.
Coming from Coventry, she knew about The Specials and The Selecter, but her musical tastes, although wide ranging, covered punk, trance, rock and even classical tastes.
But now with her five CDs of the ska sound, she knows them all. Her favourite songs from the production are Ghost Town, Three Minute Hero, Message to You Rudi and Too Much Pressure.
The set is based on The Precinct and most of the locations are based on the actual scenes that shaped the music at the time, including Pioneer House and Lanchester Polytechnic (now Coventry University).
Lindi, who grew up in Radford, Earlsdon and Allesley Park, said:
"I hope it will appeal to everyone, to those who remember the 2-Tone era and those aged 20 to 25 who have probably only heard of it. I am sure they will enjoy it.

"It has been written for a Coventry audience because 2-Tone was Coventry. It would be like writing a story about the Beatles, and not mentioning Liverpool.
And the team have received helpful words and advice from The Selecter's Pauline Black who has chatted ot the cast and director, and visited a rehearsal and offered advice. Lindi said:
"She was very nice and very helpful. She said we had done some of the songs better in a few weeks than they did back then!

"She came to one of the rehearsals and we thought they were joking when we were told Pauline was watching.

"It was good to hear what she had to say and great to hear she liked what she saw."
The show opens on Tuesday 12 September, and runs until Saturday 30 September, with tickets costing £9 to £15. Sales have gone well, with limited availability now in the opening week.