[31 OCT 00] BELGRADE THEATRE REVIEW - THE ACCUSED
Guilty Of A Good Idea
REVIEW BY ANTONY HOPKER

It's rather implausible and slightly absurd in places, but Jeffrey Archer's new play grips the audience until the end.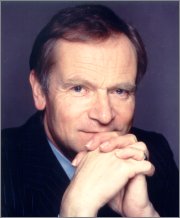 It centres around a murder trial in which Patrick Sherwood, played by Archer, is on trial for the murder of his wife.
Within a few minutes anyone who has been to a serious trial can see that it isn't going to bear too much resemblance to reality.
Obviously it is impossible to keep the audience in the theatre for three weeks while evidence is meticulously presented to the jury.
A few corners have to be cut, and the witnesses present a rather confusing picture as a result. They are often questioned by the barristers on their motives for giving evidence, instead of some important aspect of the case.
And the put-downs, interventions and asides from the barristers would never be seen, let alone tolerated in a real courtroom.
Despite all this it is hugely entertaining. It is much funnier than the average murder trial in real life and with the audience acting as the jury, it becomes quite engrossing.
As the stakes rise, the two central characters outline their version of events. The audience knows one has to be lying, and has to digest the distractions and red herrings as well as what could be the truth.
Archer, making his stage debut, is quite a good witness, although he gets a smoother ride from his barrister with a more sensible line of questioning.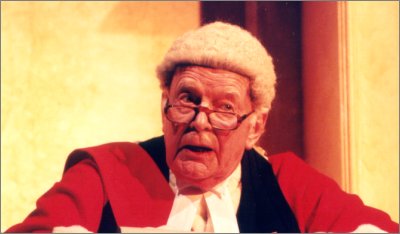 MR JUSTICE CARTWRIGHT, PLAYED BY TONY BRITTON, SUMS UP TO THE JURY - THE AUDIENCE
Jennifer Mitchell, played by Emma Davies, Sherwood's alleged mistress, brings out more emotion, and still seems to be introducing new evidence during her re-examination.
I thought it was obvious that Sherwood was guilty, despite a last minute bombshell as he stood in the dock, and voted accordingly.
Apparently Archer has rewritten some scenes because he was always being acquitted. In the end it was a close run thing, but the audience sent his character to prison.
There is yet another twist at the end. It would be interesting to see how that changes if he is found not guilty.
Until: Saturday 4 November
Running time 2 hr 50 min
Tickets from £6 to £18
Box office 024 7655 3055