[22 MAR 99] ROYAL SHAKESPEARE COMPANY NEWS
RSC Music Director Wins Oscar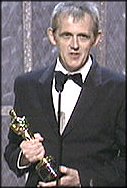 The RSC's Head of Music Stephen Warbeck was today celebrating after his triumph at the Oscars.
The RSC music maestro won the Oscar for the Best Original or Comedy Musical Score for his soundtrack of Shakespeare In Love.
This current box-office hit also won Oscars for Best Picture, Original Screenplay, Costume Design and Art Direction. Judi Dench also won Best Supporting Actress for her part in the film.
Stephen said after the award:
"It's thrilling. It's a vindication of the feeling that it was a wonderful film. When you do something that you are proud of and you get a public accolade that is thrilling."
Stephen joined the RSC as a full-time member of staff in October 1998, following the retirement of Guy Woolfenden. Stephen's earlier compositions for the company include stage music for Adrian Noble's productions of The Tempest (1998) and Cymbeline (1997) and Michael Attenborough's Romeo and Juliet (1997).
Stephen also worked on the soundtrack for the recently acclaimed film Mrs Brown and the television drama Prime Suspect, for which he received a Bafta nomination for Best Original TV Music.
Warbeck is a great advocate of live music on stage and even plays accordion in band the Hkippers which includes in its line-up Paul Bradley who played Nigel in Eastenders.
Kate Hunter, press spokesperson for the RSC, said of Stephen's triumph:
"We are absolutely delighted with Stephen's success. Quite often the musicians go unrecognised - it is great to see Stephen getting the personal recognition he deserves.

"We look forward to many more fruitful years for Stephen with the RSC".