[08 MAR 00] ATHERSTONE NEWS
Atherstone Ball Game Number 801

Yesterday saw the 801st Shrove Tuesday Ballgame take place in Atherstone in north Warwickshire.

Businesses in Long Street, the main road through the town, boarded up their properties in preparation for the contest.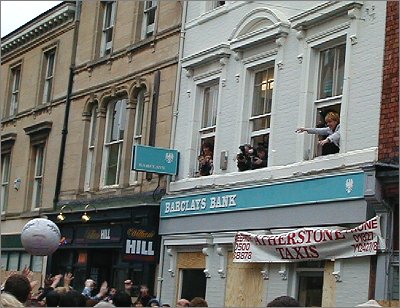 ATHERSTONE BALL GAME KICKS OFF
[Photograph taken by Helen Cotterill - 7 March 2000]

The annual tournament kicked off at 3pm when Central Television presenter Louella Bailey launched the giant silver ball out of the first floor window of Barclays Bank. Prior to the event, sweets were showered onto the town's children, waiting eagerly below.

After two hours of a good-natured, but hectic, bruising tussle the winner was declared at 5pm as Lee Rolinson, as he was the one left holding the ball. Surprisingly, there were no serious no injuries.

Historically the game was a battle between two teams, Warwickshire and Leicestershire. The prize was a bag of gold and the privilege of serving in the army for a year, which, at the time, guaranteed a regular wage.

Atherstone is not the only place that stages this unusual annual sport. Other locations include Sedgefield in County Durham, Ashbourne in Derbyshire and St Columb Major in Cornwall.