[01 MAR 99] THE BLACKROOM - THE STORY OF 2-TONE AND THE SELECTER





Part 2: 1991-1999

Ten years went by until in late 1990, I got a phone call from Bad Manners members Nick Welsh and Martin Stewart, inviting myself and Neol Davies, to guest at a couple of their gigs.
At first I was very reluctant, not to mention sceptical, that there was anybody out there who still listened to ska music! By this time I had carved out a new career for myself in theatre and TV and I wasn't prepared to throw all my hard-work down the drain, just for the chance to sing a few old songs again to a handful of balding 2-tone fans!
With much persuasion, Neol and I decided to give it a bash. Bad Manners played a gig at the Ritzy in Nottingham and the idea was that Neol and I would go on in the middle of their set and perform four songs, On My Radio, Missing Words, Three Minute Hero and Too Much Pressure. We were astounded to find that 2000 people turned up to the gig and skanked the night away as if we had never been away.
After the gig Nick and Martin took us aside and mentioned that they were thinking of leaving Bad Manners and why didn't we team up with them and re-form The Selecter. No decision was made at the time but we agreed to think about it. Fortunately I was contracted to do two plays in London, which would take me away for five months, so I could bide my time.
After the plays ended Martin rang and said that he had booked a short four week tour in America. Neol and I agreed to go. We hired The Tic Toc in Coventry for a day and a half and began rehearsals with a new drummer, Perry Melius (now drumming for Tricky). Then we did a short sell-out club tour of England, before jetting off to the States.
We were amazed to find that in our absence a whole new generation had grown up and formed ska bands of their own, which were now called Third Wave Ska in America. These new ska bands treated us like legends and couldn't get enough of the music. More tours followed in 1992 and 1993.
Neol Davies left in 1993 to pursue another musical project of his own. Gaps Hendrickson came back into the band for a while, and joined us on the Skavoovie tour of America, which included The Special Beat (members of The Beat and The Specials), The Toasters and ska veterans The Skatalites (the originators of all ska music).
When we re-formed the idea was never to just play the old songs. I always thought it was important to write and record new material. 1999 finds this current Selecter line-up with three new studio albums under our belt - The Happy Album (1994), Hairspray (1995) and Cruel Britannia (1998) - and numerous live recordings and compilations. We are all older and wiser now and we don't play record company games any more. The Selecter now does things on its own terms. Suffice to say that we have 'come of age'.
We regularly tour in the USA, Canada, Japan and throughout Europe. In 1997 we toured the USA on our headlining tour and supporting No Doubt around the stadium/arena circuit.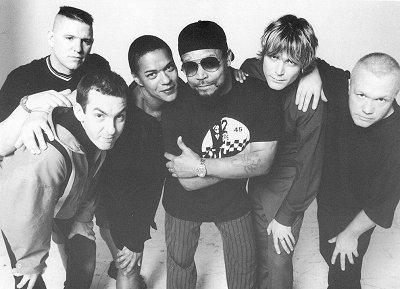 THE SELECTER - 1999 LINE-UP Current Line-up:
Pauline Black - vocals

Nick Welsh - bass

Martin Stewart - keyboards

Paul Seacroft - guitar

Al Fletcher - drums

Dave Barker - vocals
Our new album Cruel Britannia was recently released on the Snapper label and also features reggae artist and legend Dave Barker, who had hit records in the 70's (under the name of Dave and Ansil Collins) with Double Barrel and Monkey Spanner. Dave regularly performs live with us.
Our recent gig in Coventry at The Hare and Hounds, Keresley, was sold out and we and the audience had a brilliant night. We hadn't played Coventry for five years, hopefully we won't leave it so long next time.
For more information, photos, links and a very informative and comprehensive discography, visit The Selecter website:
To buy CDs of current and past material, visit:
Related ska sites:
The Specials [official website]

The Skatalites