[10 AUG 99] AIR ATLANTIQUE NEWS
Airshow Returns To Baginton

Coventry's famous air show is back – for the first time since a pilot was tragically killed in a crash eleven years ago.

Visitors to Coventry's Baginton Airport on Sunday 15 August will be treated to a festival of flying lasting eight hours, including an air race.

The event is being organised by Baginton based pollution control specialists Air Atlantique.

John Reeve, general manager of Air Atlantique said:
"Our chairman Mike Collett felt that we should bring some activity back to the airport.

"We took it over last year and this is our way of reminding the people of Coventry and Warwickshire of the fine facility they have on their doorstep.

"The Baginton Air Show was always a big attraction to local people and huge crowds used to enjoy a great day out.

"We aim to recreate that. The show was halted after the tragic plane crash eleven years ago, but we feel it is time it became part of the local events calendar once more.

"I think the spectators will enjoy seeing the collection of 1950s aircraft as well as the excitement of the air race which was always an exciting end to the old air shows. About five aircraft will take part in the race over a four lap circuit which goes down as far as Harbury. Our hope is that a great day out is had by all."
The show will involve more than aircraft. Glenn Miller orchestras will conjure up memories of the Second World War as aircraft from the 1950s fly overhead.
There will be a fete with dozens of stalls, a variety of classic road vehicles including Jaguar and Armstrong Siddeley and even a Churchill tank.
Children will have fun on a bouncy castle and there will be refreshments and bars.
The gates will open at 10.30am and there will be pleasure flying throughout the day on a DC3, a twin Pioneer and a Rapide at a fee of £25 per person.
The air show will begin at 2pm and the air race takes place at 5.30pm. Pleasure flying will continue for another hour.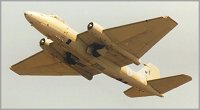 The flypast aircraft will include a Hunter, Tiger Moth, T28 Fennec, Harvard C45, Spitfire, Avenger, Mustang, Vampire and Venom, Meteor NF11, Pembroke Devon, Avro Anson, Dassault Flamant, DC3, DC4, DC6, Sea Fury, Canberra, Electra, AN2, AN12, and a L29 Dolphin. There will also be a wing-walking display.
Tickets can be purchased in advance from The Coventry Evening Telegraph at the discount prices of £7 per adult and £3.75 for senior citizens and children over 12 years of age. On the day adults pay £10 and senior citizens and children over 12 pay £5. Children under 12 go free.
The last air show in 1988 ended tragically when Flight Lieutenant Peter Stacey was killed when his Meteor aircraft crashed in the Stoke Aldermoor district of Coventry. He was praised for his skill in steering the diving plane away from the Ernesford Grange housing estate. He crashed on open ground next to Langbank Avenue and the spot is marked by engraved monument.
[PHOTOGRAPHS COPYRIGHT (c)1999 NICK CHALLENOR, ALL RIGHTS RESERVED]