[09 MAR 01] ALSTERS NEWS
Alsters Looks North With RS Bull Merger

A Coventry and Leamington firm of solicitors is growing northwards after a merger with a practice in Nuneaton.

RS Bull and Company, one of Nuneaton's longest established law firms, is to merge with Alsters in a move which will see the North Warwickshire practice expand the range of services it offers.

The announcement ends growing speculation about the future of the Nuneaton firm, where it employs a total of 20 partners and staff.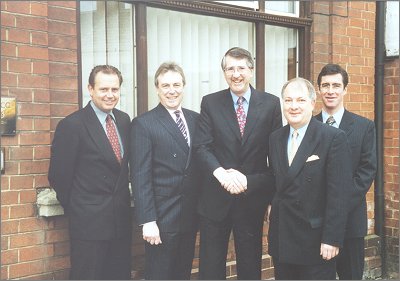 FROM LEFT TO RIGHT: MIKE HALL, COLIN WITHERALL, ALAN BULL, STEPHEN SWINDLE, MARTIN KIMBERLEY

It also makes Alsters one of the three largest legal practices in Coventry and Warwickshire with a total of 10 partners, 43 fee earners and 75 other staff at offices in Hamilton Terrace, Leamington; Queen Victoria Road, Coventry and now Dugdale Street, Nuneaton.

Alan Bull, senior partner at RS Bull, who heads the firm's commercial and domestic conveyancing department, said:
"In common with many other legal firms, we have been seeking ways to improve the services we offer existing clients and at ways of attracting new business.

"As part of this process we have been holding discussions over the past few months with about half a dozen larger law firms in the region and this has obviously sparked rumours about our future.

"We have had a long and friendly association with Alsters, which we regard as being a progressive and ambitious firm with high standards of client care and good ideas for the future.

"Our discussions uncovered many areas of opportunity which could be to our mutual benefit and which we eventually decided would best be explored by a merger."
RS Bull was founded in 1951 as Oakey, Bull and Southall. It changed its name to RS Bull and Co in the mid 1960s after it was taken over by Alan Bull's father Reg, who remained a consultant to the firm until his death in 1993.
Alsters managing partner Stephen Swindle added:
"This merger is good news for clients of both RS Bull and Alsters because it further enhances the skills and expertise we will be able to offer.

"We have also identified several areas where we can expand the services we offer and with the existing staff at Nuneaton and Alsters' willingness to invest in the infrastructure at RS Bull, particularly in information technology, we will be well placed to meet the challenges of the future."
Already the new team is looking to expand RS Bull's commercial legal work. Although the firm has a well-established private client base and undertakes commercial conveyancing, it will use Alsters' experienced commercial department at Leamington to develop a wider range of legal services for local companies and businesses.
After the merger, Alan Bull will become a consultant for Alsters while criminal lawyer Mike Hall will become the Alsters Partner with day-to-day responsibility for running the Nuneaton office and heading the firm's newly-formed criminal department.