[11 FEB 99] ASTLEYS PRESS RELEASE
Astleys On A Roll With Coventry City FC

Coventry-based industrial consumables and workwear suppliers, John Astley & Sons, is flushed with success when it comes to promoting Coventry City Football Clubs' toilets to the top end of the league.

Astleys, who provides the Premier division club with its toilet rolls and toilet roll dispensers, first won the account over two seasons ago.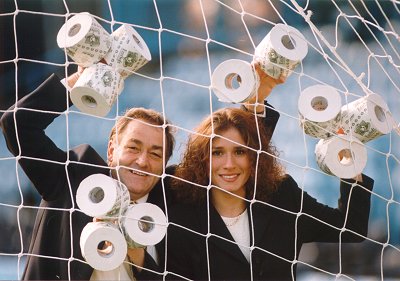 DON BLAIR, STADIUM MANAGER AT COVENTRY CITY FOOTBALL CLUB, AND REBECCA WEBB, ACCOUNT MANAGER AT ASTLEYS CONSUMABLES DIVISION.

Now the club boasts the latest environmentally friendly and vandal-resistant toilet roll dispensers in all the supporters' toilets.

Thanks to a special design in the dispenser, a new toilet roll cannot be used until the last sheet on the old roll has been removed, which means minimised wastage and valuable cost savings.

So no matter how the Sky Blues are performing on the pitch, supporters always know they won't be caught short when the half-time whistle blows.

Rebecca Webb, account manager at Astleys Consumables Division, said:
"It is encouraging to see a football club place the environment so high on its agenda, even if it means tackling the less glamorous areas where waste reduction can be maximised.

"An added advantage is that these toilet roll dispensers can withstand really tough wear-and-tear from all supporters, whatever the mood of the match."
Since last December, Astleys has provided the club with over 2,000 toilet rolls and plans are afoot to increase still further the range of cleaning products it supplies.
Don Blair, Coventry City FC stadium manager, said:
"It is great that we can team up with a Coventry firm that has been around even longer than us, and of course, the arrangement ensures that our supporters continue to be provided with the best possible facilities."
MORE INFORMATION: Chris Box 01926 425533