[18 MAR 99] ASTLEYS PRESS RELEASE
New Appointee On Road To Success

Drag racing enthusiast, Trudi Smith, has been appointed a sales representative at Coventry-based John Astley & Sons, one of the UK's major suppliers of personal protection equipment, janitorial consumables, tools and workwear.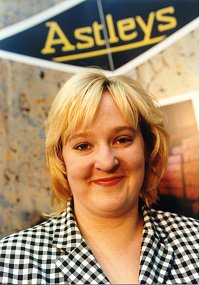 Trudi, aged 27 from Leamington Spa, has previous experience working in the industrial and electronics products field and has successfully completed the Advanced Certificate in Marketing Management course.
More recently she has been working for herself taking on marketing and tele-sales projects.
Working for Astleys Industrial Consumables Division, her sales area includes the west of Coventry and Birmingham.
"Astleys has a strong customer base in the Coventry area and it is my aim to increase the repeat sales, as well as explore new leads.

"I am confident that I can make a success of this exciting new position which will pull on all my previous sales experience," said Trudi.
John Astley & Sons was established in 1730 as general merchants and presently employs over 70 staff and supplies more than 7,500 customers.
Jonathan Astley, sales and marketing director for Astleys, said:
"Trudi has a proven track record in the sales environment. Her commitment and enthusiasm complements our highly professional sales team."
Trudi has a passion for fast cars and previously used to race a Mustang in drag races.

NOTES

John Astley & Sons Ltd was established in Coventry in 1730 as a chandler and drysalter. It was incorporated as a limited company in 1892.

Today, the company operates three main divisions, Astleys Industrial Consumables, Astleys Industrial Paints and the recently launched Astley National, which sells products exclusively through a network of distributors.

MORE INFORMATION: Jane Grant or Tracey Hewlett 01926 425533