[26 APR 99] ASTLEYS PRESS RELEASE
Astleys Is Just The Jobman

Coventry-based John Astley & Sons has clinched a deal to become the sole UK importer for a leading European workwear brand.

'Jobman' will be marketed in the UK by Astley National, a new division of the well-established local firm.

The Jobman range is designed and manufactured in Sweden by Jobman Workwear AB. The company has gained an impressive track record in the manufacture of high-quality workwear.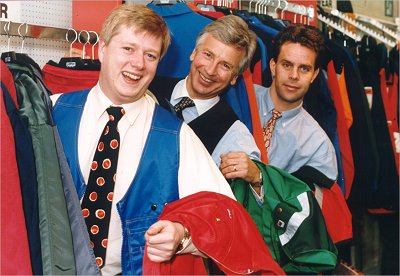 (LEFT TO RIGHT) JONATHAN ASTLEY, SALES AND MARKETING DIRECTOR FOR ASTLEYS, LEIF JONDRING, MANAGING DIRECTOR, JOBMAN WORKWEAR A.B, JOHAN ANDERRSON, EXPORT SALES MANAGER, JOBMAN WORKWEAR A.B

The brand is now well known across Europe for combining durability and comfort with style.

Jonathan Astley, sales and marketing director for Astleys, who heads up the new division, is confident that demand for Jobman will be high in the UK.

Mr Astley said:
"Jobman offers a range of well made, good looking clothing specially designed by experts to help active people be more effective in the workplace.

"It is rightly placed at the top end of the European workwear market and we aim to position it in the same category here in the UK."
The product range, which includes weatherproof jackets, stylish overalls, and specially designed pocketed tool vests, is being sold in the UK through a national network of independent distributors being developed by Astley National.
Astley National plans to support the sales operation with a sustained promotional campaign.
Ulf Svensson, managing director of Jobman Workwear AB, said:
"Astleys has significant experience in the workwear market and we are delighted to be working with the company to launch the Jobman brand in the UK.

"We are confident that Astleys professional approach will help us win a major share of this significantly growing market."
NOTES

John Astley & Sons Ltd was established in Coventry in 1730 as a chandler and drysalter. It was incorporated as a limited company in 1892.

Today, the company operates three main divisions, Astleys Industrial Consumables, Astleys Industrial Paints and the recently launched Astley National, which sells products exclusively through a network of distributors.

MORE INFORMATION:
Jane Grant or Tracey Hewlett on 01926 425533