[22 JUN 99] ASTLEYS PRESS RELEASE
Have Trousers, Will Travel

Mechanics with a top British speedway team are literally 'road testing' protective clothing from a Coventry firm when they tour Europe this summer.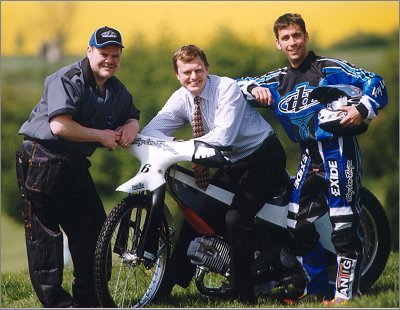 (LEFT TO RIGHT) CRAIG HADLEY, MECHANIC WITH THE H&H PARTNERSHIP, NICK HILDITCH, MARKETING MANAGER FOR JOHN ASTLEY & SONS INDUSTRIAL CONSUMABLES DIVISION AND GREG HANCOCK, RIDER FOR H&H PARNERSHIP

The back-up crew for current world champions Greg Hancock and Billy Hamill have been kitted out for the World Grand Prix series by John Astley & Sons, based in Gosford Street.

Team manager, Craig Cummings, heard about Astleys' new 'Jobman' workwear range through contacts at Coventry Speedway where Greg Hancock and Billy Hamill regularly race. He approached Astleys and was so impressed by the quality of the Jobman protective clothing that he ordered ten pairs of work trousers in the team's grey and black livery.

Craig said:
"We need tough clothing to protect the guys when they are working on the bikes - normal workwear just doesn't offer the right levels of strength and comfort. We also wanted them to look smart and fit in with the professional image of the team, which has just been launched as the H&H Partnership."
The trousers will be put through their paces over the next few months by the mechanics responsible for keeping Greg and Billy's bikes in top form to meet the challenge of Europe's most testing Grand Prix circuits. The team are taking part in the six meetings of the Grand Prix series which begins at Prague later this month.

Jobman workwear is manufactured in Sweden and sold by Astley National, which was recently appointed as the sole UK importer. The range includes weatherproof jackets, overalls and tool vests, designed for comfort and durability.

Notes

John Astley & Sons Ltd was established in Coventry in 1730 as a chandler and drysalter. It was incorporated as a limited company in 1892.

Today, the company operates three main divisions, Astleys Industrial Consumables, Astleys Industrial Paints and the recently launched Astley National, which sells products exclusively through a network of distributors.

MORE INFORMATION:
Jane Grant or Tracey Hewlett on 01926 425533