[31 JUL 01] ASTLEYS NEWS
Electricians Switch On To Euro-Workwear

A leading local electrical contracting company has teamed up with Astleys to go Swedish in its workwear.

Electrical Maintenance and Installations of Leamington Spa has placed a one-year contract with Coventry workwear specialists Astleys Industrial Consumables to supply tool vests and trousers from the Jobman range, customised with the Leamington firm's logo.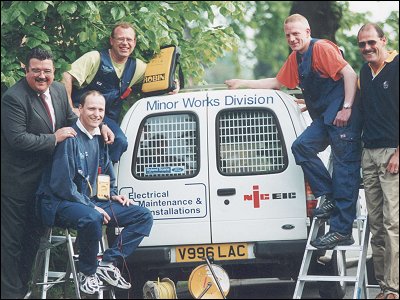 [LEFT TO RIGHT] DANNY RAWLINS, SALES REPRESENTATIVE FROM ASTLEYS WITH TIM BRISCOE, ROBIN EYKEN, RICHARD BARTLETT, ENGINEERS FROM ELECTRICAL MAINTENANCE AND INSTALLATIONS AND ROY BRISCOE, PARTNER AT ELECTRICAL MAINTENANCE AND INSTALLATIONS.
Jobman, already established as one of the best-selling workwear brands in Europe, is one of a ange of work and corporate garments which Astley Industrial Consumables supplies. Contracts vary in size up to 'total contract management' deals for firms such as Tesco.
Steve Smith, partner of Electrical Maintenance & Installations, said he had been impressed - both by the workwear and by the Astleys team:
"Astleys provide a very professional service which started with a careful analysis of our particular requirements. The clothing they recommended is practical and hardwearing - two essential qualities in our line of business."
Roy Briscoe, partner, added that it was equally vital for their electricians to present a strong corporate image when working on clients' sites:
"We carry out a lot of maintenance on council estates in Warwickshire where many of the tenants are elderly, and although we always show householders our identity cards, smart uniforms provide them with extra reassurance that we are a reputable firm."
Astleys Industrial Consumables is part of the official UK distribution network for Jobman which, since its launch less than two years ago has grown rapidly.
Jonathan Astley, sales and marketing director of Astleys Industrial Consumables, said:
"Jobman garments are exceptionally well designed, for comfort and durability.

"The range is proving increasingly popular with electricians, plumbers and carpet-fitters in the UK as they follow European trends and move away from old-fashioned baggy overalls or scruffy jeans and sweatshirts."