[01 JUN 99] AVON STUDIOS PRESS RELEASE
Photographers Go Green At The Millennium Dome

For contemporary wedding, lifestyle and portrait photography in Warwickshire and the West Midlands visit Avon Studios

Photographers from Wellesbourne's Avon Studios had a sneak preview of the Millennium Dome recently when they carried out a photographic assignment for a national courier network.

The studio had won a contract to take photographs for the National Courier Associations new brochure and annual exhibition, which was held at Warwickshire's Ettington Chase Conference Centre.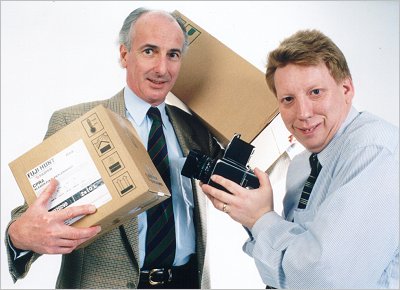 AVON STUDIOS MANAGER ANDREW SHEPPARD (RIGHT) AND NCA MEMBER STEFAN LAW DO THEIR BIT FOR THE ENVIRONMENT

The brochure will promote a scheme - ReTrac - which encourages all NCA members to fill up their empty vans with deliveries on an otherwise ungreen - and unprofitable return journey.

Avon Studios commercial manager Andrew Sheppard, whose other clients include the Teletubbies, Conoco and Pottertons, joined in with the spirit of the scheme on his return journey from the Dome - by taking a parcel from Miss Selfridge in London to Warwickshire.
"I wanted to use a site that everybody would recognise as a backdrop for the brochure and exhibition work - and the Millennium Dome seemed to fit the bill exactly," explained Andrew.

"I was glad to be able to do my bit for the environment by making the most of my journey back to Wellesbourne."
NCA member Stefan Law, from Shipston-based On the Dot Couriers, explained:
"This is an environmentally friendly scheme which uses the existing infrastructure of vans travelling round the country and minimises the amount of traffic on the road."
Courier firms nationwide can liaise over deliveries and destinations via the internet.

MORE INFORMATION: Helen Salisbury on 01926 859829.