[11 JUN 99] AVON STUDIOS PRESS RELEASE
Newly Weds Are The First To Get On The Web

For contemporary wedding, lifestyle and portrait photography in Warwickshire and the West Midlands visit Avon Studios

A couple who tied the knot in Warwickshire after falling in love on the Internet have become the first newly weds in the Midlands to share their happy day with readers of an on line news service.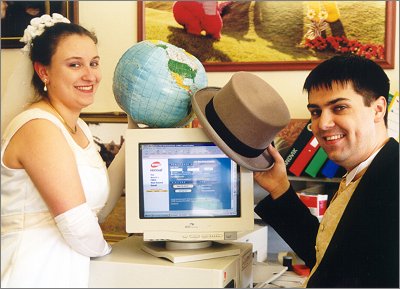 NEWLY WEDS KATE FORMAN AND CORY MUZYKA WHO MET ON THE WEB

Stratford woman Kate Forman and Canadian Cory Muzyka, who married last week at Leamington's St John the Baptist Church, are broadcasting details of their wedding to surfers all over the world - thanks to a joint initiative between a pioneering Wellesbourne photographer and the Midlands' biggest internet news service.

Avon Studios in Kineton Road has teamed up with CWN - Coventry and Warwickshire Network - to offer the first service of its kind to couples choosing its photographers to cover their big day.

Not only will the website publish news and pictures of the event itself, couples can even add their e-mail addresses to enable long lost friends and relatives to send their good wishes at the touch of a button.

Kate, from Kestrel Close, and Cory, fell in love last year through the e-mails they sent each other while Kate was researching into the media in Vancouver as part of her journalism degree.
"After the first message we weren't talking about the project, but about each other,' said Kate. "We fell in love straight away and began sending about 20 e-mails a day.'
A few months into the relationship Kate travelled to Canada to meet Cory.
"When we saw each other at the airport it was like meeting a long lost friend. By the second week he joked that I'd have to stay and marry him.
"There's something quite special about sharing our wedding on the Internet,' said Kate. "It's particularly poignant as this is the way we met."
Kate and Cory are the first of dozens of couples queuing to appear on the worldwide web.
"We've already got more than 60 weddings on our books between now and the end of the millennium, with more bookings coming in every day," said Avon Studios manager Andrew Sheppard. "Every couple we photograph is being given the chance - if they wish to feature on CWN.'
CWN editor Chris Studman explained:
"Around a third of our readers are from overseas - many of them ex-pats. It would be great if this new service succeeded in reuniting people who have lost touch with each other."
Kate and Cory's wedding photos can be viewed by visiting CWN or the Avon Studios website.

MORE INFORMATION: Helen Salisbury on 01926 859829.