[22 JAN 01] AVON STUDIOS NEWS
Andrew Snaps Up National Award

For contemporary wedding, lifestyle and portrait photography in Warwickshire and the West Midlands visit Avon Studios

A Warwickshire photographer has beaten off competition from thousands of rivals to win a national award.

Andrew Sheppard, who runs Wellesbourne-based Avon Studios, was given a distinction for his work - a location portrait of three girls from Moreton Morrell: Polly Lepage-Norris and her cousins Rebecca and Emily Schofield.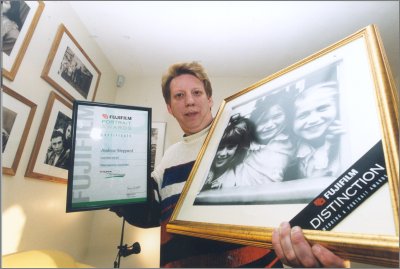 ANDREW SHEPPARD WITH HIS AWARD-WINNING PHOTO
More than 1,100 entries from all over the country came in for the Fujifilm Wedding and Portrait Awards in the quarterly national competition.
The prize means Andrew is now through to the high-profile annual finals of the prestigious competition, which will be staged at the BAFTA building in London's Piccadilly in May.
Andrew said:
"This is only the second time I've entered for these awards. And to have been awarded a distinction is wonderful.

"It's thanks largely to my work on our new range of lifestyle photography with national award winning photographer Annabel Williams that I've managed to achieve this success.

"Winning this award proved that our decision to move contemporary lifestyle photography is definitely the way forward for Avon Studios.
One of the judges, BBC picture researcher Chloe Gee, praised the standard of entries. She said:
"I was stunned by the quality of the images which displayed some real artistry and impressed by the range of styles not usually associated with High Street portraiture."