[15 MAR 01] AVON STUDIOS NEWS
Sheppard Helps Suffering Farmers

For contemporary wedding, lifestyle and portrait photography in Warwickshire and the West Midlands visit Avon Studios

A crisis fund has been set up to help Warwickshire farmers cope with the foot and mouth disease, and a studio that specialises in location photography is donating money to it.

Avon Studios in Wellesbourne regularly uses farms across Warwickshire as settings for its lifestyle photography.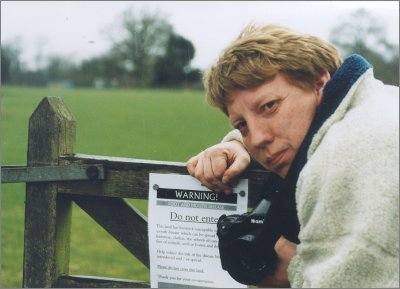 ANDREW SHEPPARD AT ONE OF THE CLOSED OFF AREAS
It is to donate £50 from every shoot to raise up to £1,000 for the fund set up last week at the National Agricultural Centre in Stoneleigh to help farmers not entitled to compensation from the government.
Avon Studios manager Andrew Sheppard said:
"The farmers of Warwickshire have always been very good to us in providing locations for us to use for our photoshoots.

"The least we can do to help them is to donate some of the money we earn to help them through the crisis."
Mr Sheppard added that his own business is being affected as popular locations such Charlecote Park, Kenilworth Castle and the Welcombe Hills have been made off limits.
He said:
"We're having to think on our feet and come up with alternative locations – people's gardens, churches, interesting buildings well away from agricultural areas and urban landscapes which have a hard but contemporary edge.

"As the foot and moth crisis deepens it is not agriculture but tourism, leisure and now businesses like ours which are being hard hit.

"Along with the farmers of this country I shall breathe a sigh of relief when this whole desperate situation is behind us was can get back to business as usual."