[26 NOV 98] AVON STUDIOS PRESS RELEASE
Time Travellers Keep History In The Family

For contemporary wedding, lifestyle and portrait photography in Warwickshire and the West Midlands visit Avon Studios

Three generations of Wellesbourne Primary School pupils and staff buried a little of their heritage for the schoolchildren of the next millennium at a special ceremony in the school grounds on Monday (November 23).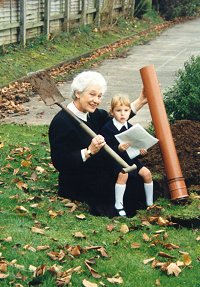 Four-year-old Laura Jensen and classmates from reception and year one were joined by Laura's grandma Freda Robinson - who is also the school secretary - to bury a time capsule to be dug up by their own grandchildren in sixty years' time.
They were taking part in a living history project organised by former pupil, Wellesbourne photographer Andrew Sheppard, who owns Avon Studios in Kineton Road.

The children were testing out the claims of photographic paper manufacturer Fuji which has recently brought out a new brand - Crystal Archive - designed to remain in pristine condition for 60 years.
All Avon Studios pictures are printed on the Crystal Archive paper, but Andrew wanted to make sure its performance lived up to its reputation.
"I have fond memories of my time at the school and felt the next generation of youngsters were ideally placed to create a living history project for their descendants while discovering just how effective the new breed of photographic paper is. They will be able to witness for themselves just how clear the pictures look after more than half a century," said Andrew.
"Laura's grandmother, who worked at the school when I was there, offered to help out to bring home the fact that the children are part of an ongoing and constantly evolving history."

Mrs Robinson said: "I shall be retiring at Christmas, so it's rather fitting that I should be helping my granddaughter to create history for her own grandchildren to discover in 60 years time. It's also rather appropriate as Andrew was friends with Laura's mum, my daughter, Clare."
Andrew took photographs of the youngsters, their teachers and the school, as well as photos of landmarks around Wellesbourne, such as the church, the watermill, Walton Hall, Charlecote Park, the new Co-op and his own shop. The children also took pictures of each other and their favourite things in and around the school.
The photos, along with copies of the local papers, a parish newsletter, a school prospectus and some of the children's work were placed in the capsule.
"It's odd to think I shall be getting on for 100 when the youngsters' grandchildren open the box. You never know, I may be around to find out just how good the photos look after six decades under ground," said Andrew.