[04 JAN 99] AVON STUDIOS PRESS RELEASE
Avon Studios Get Dressed For Success

For contemporary wedding, lifestyle and portrait photography in Warwickshire and the West Midlands visit Avon Studios

Grooms planning to tie the knot in the run up to the new millennium may find themselves vying with the photographer for the title of best dressed man - thanks to the first deal of its kind struck in Warwickshire.

Avon Studios in Wellesbourne has become the first photographic studio in the county to team up with a menswear specialist to ensure its staff look as stylish as the bridal party.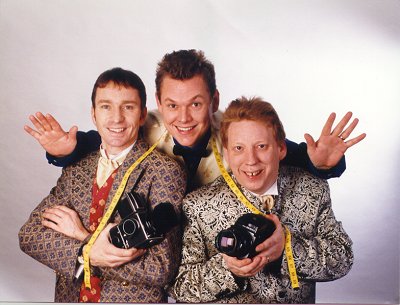 AVON STUDIOS PHOTOGRAPHERS CHRIS BROWN (LEFT) AND ANDREW SHEPPARD (RIGHT) MODEL THE STUNNING NEW MORNING SUITS SUPPLIED BY RICHARD PAUL (CENTRE) FROM RICHARD PAUL MENSWEAR

Stratford firm Richard Paul Menswear has supplied all the Kineton Road studio's wedding photographers with dazzling gold, silver and blue patterned morning suits, which they will wear at all the formal weddings they attend in the coming year.
"We like to blend in with the bridal party on a couple's special day," explained Avon Studios manager Andrew Sheppard. "The last thing the bride and groom want is some scruff letting the side down. The newlyweds, their friends and family have all made a special effort to look their best. We think it's only right that we should do the same.

'If, on the other hand, it is a more informal occasion, we respect the couple's wishes and make sure we dress appropriately."
Fortunately Andrew, whose clients include the Teletubbies, doesn't take the dress code too far and try to blend in with all the environments in which he works. He might find it difficult to remove the lens cap in a Dipsy outfit.

MORE INFORMATION: Helen Salisbury on 01926 859829.