[26 JAN 99] BUSINESS LINK PRESS RELEASE
Business Link Sparks Quality Achievement

A young Coventry firm has achieved an International Quality Standard through a sparkling partnership with Business Link Coventry & Warwickshire.

Wire Tech International Ltd, who specialise in spark erosion for aircraft engines, has gained the prestigious quality award ISO 9002.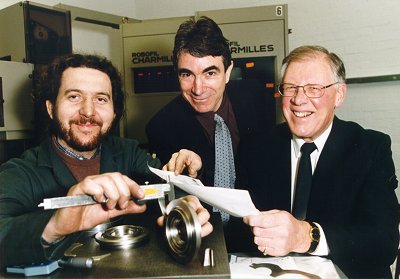 (left to right) CHRIS ACTON, PRODUCTION DIRECTOR AT WIRE TECH INTERNTAIONAL LTD, DAVID BAKER, MANAGING DIRECTOR AT WIRE TECH INTERNATIONAL LTD WITH KEITH SUTCLIFFE, BUSINESS ADVISER FROM BUSINESS LINK COVENTRY AND WARWICKSHIRE.

The quality assurance was necessary for Wire Tech, who employ three people, to obtain business from a world famous airline engine manufacturer.

Wire Tech also provides a spark erosion service to the automotive industry, including a Formula One company and, exports to the US concentrating on extrusion tools.

Business Link provided financial assistance to employ a consultant to guide them on how to achieve IS09002 and how it should be implemented.

Both David Baker, Managing Director and Chris Acton, Production Director at Wire Tech, said:
"Achieving IS0 9002 gives us a distinct advantage over the competition as our clients know we are maintaining a high quality standard.

"Business Link were instrumental in guiding us through the paperwork and the actual implementation."
Wire Tech has seen a continued growth in business since June 1998 when in started and particularly since achieving ISO 9002 certification in August 1998. The company are now planning to take on a trainee within the next six months.
Keith Sutcliffe, business adviser for Business Link, said: "This is a wonderful example of a small company achieving IS09002 in a very short time through hard work and determination.
"Small companies should not be intimidated by the thought of IS0 9002 if they need to enhance their market position."
MORE INFORMATION: Chris Box 01926 425533