[22 MAR 99] BUSINESS LINK PRESS RELEASE
Kenilworth Firm Weaves Its Export Magic

Business Link Coventry & Warwickshire is helping Kenilworth-based giftware AbraCARDabra to weave export magic.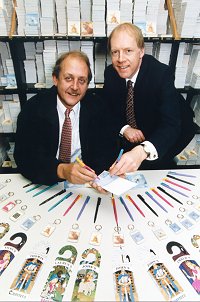 The seven-year old firm, which is based at Stoneleigh Deer Park, was already selling a specially designed range of gift products, including personal stationery and giftware to a number of foreign countries.
But managing director Phil Pennant turned to Business Link to help break into new markets.
As well as giving export advice on how to tackle specific regions, Business Link was able to offer financial assistance for a consignment of samples to Canada.

Mr Pennant said:
"We are increasingly proactive in trying to find, and exploit, new export markets and recently we have had successes in Canada, where a network of distributors has been established.

"As well as financial assistance with a consignment of stationery, Business Link has helped formulate a plan to tackle each territory so that we can identify which products most suit the local marketplace."
Phil is keen to point out that the stationery they supply is not what most people would expect, but rather includes personal pens, key rings, and note pads, amongst other items.
AbraCARDabra employs 15 staff and is looking to increase its market share abroad still further this year, especially in France, Australia, Greece, Ireland, Gibraltar and Denmark.
Malcolm Vaughan, export adviser at Business Link Coventry & Warwickshire, said:
"AbraCARDabra has tackled some difficult markets and shown real initiative with their product adaptation and good merchandising.

"With our help it has approached each new market with a strategic and tailored approach to exploit every opportunity."
MORE INFORMATION: Jane Grant or Tracey Hewlett 01926 425533