[22 APR 99] BUSINESS LINK PRESS RELEASE
Business Link Helps Firm Measure Up

A Rugby-based engineering firm is measuring up for the launch of a revolutionary new component inspection device - with some help from a Business Link adviser at The Chamber.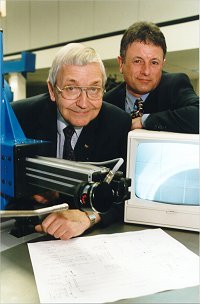 CMM Services, part of the ITP group of companies, is working on a prototype for an innovative, dimensional measuring system based on non-contact technology.
The new system, designed for use by manufacturers during the quality inspection process for tubes and pipes, uses cameras and lasers to accurately measure components to within .050 mm.
The project's two year research and development phase, the first stage of which is due for completion early next year, has been part-funded through the ERDF (European Regional Development Fund), via the community initiative Konver.

The financial support, secured with help from Business Link adviser lan Hope, has also helped the firm win a Department of Trade and Industry [DTI] SMART award for innovation to underwrite the project.
The 20-year-old firm is already a world leader in the design and manufacture of measuring equipment for the automotive, aerospace and nuclear sectors, both in the UK and overseas.
Founder Mr Dick Turpin, now managing director at CMM Services, is a design engineer with more than 40 year's experience. He predicts a bright future for the new system, which will be fully ready for launch to the market in 2001.
"Our equipment is widely used by manufacturers during the inspection process where a random sample is measured to ensure that components precisely meet required specifications.

"The new system will enable faster, more accurate inspection, helping manufacturers to attain ever more stringent quality standards.

"In addition, it will enable customers to measure rubber, plastic and other flexible components which could not be done using more traditional contact technology.

"We are confident that the demand will be high and so aim to market the new system world wide," he added.
Innovation & technology adviser lan Hope said:
"Innovation is vital for UK firms, particular those operating within the automotive sector.

"I am confident that CMM's new system is set to become another UK world beater - which is good news for UK engineering - and for Rugby."
MORE INFORMATION: Jane Grant or Tracey Hewlett 01926 425533