[10 MAY 99] BUSINESS LINK PRESS RELEASE
Coventry Manufacturer Keeps Temperatures Down

A Coventry-based manufacturer is set to help to keep temperatures down in bus cabs across the UK - with some help from lan Hope, a Business Link adviser at The Chamber.

Climate control specialists, Clayton Heaters Ltd based in Burnsall Road, have developed an air conditioning system specifically for use in the cabs of buses and coaches.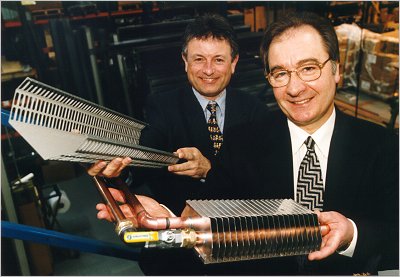 IAN HOPE, BUSINESS LINK INNOVATION & TECHNOLOGY ADVISER FROM THE CHAMBER WITH ALAN SHEFFIELD, GENERAL MANAGER FROM CLAYTON HEATER LTD.

The firm, which designs and manufacturers heating, ventilation and air conditioning systems for the transport sector has a well established customer-based both in the UK and abroad.

The newly launched product was designed in response to their customers need to improve conditions for drivers.

Alan Sheffield, general manager at Clayton, said that deteriorating cab conditions were contributing to an exodus of drivers.
"Assault screens, installed for security, create a greenhouse effect for drivers while increasing pollution levels discourage them from opening windows.

"Our new product has been designed especially to combat heat build up and give the driver control."
To help with the development costs for the project, adviser lan Hope helped the firm secure a £1 5,000 grant from Konver, a euro funding scheme designed to assist innovative manufacturing firms.
The investment has paid off and Clayton Heating is already receiving orders for the new system with interest growing from progressive bus companies across the UK.
]an Hope forecasts that increased business at the firm, which already employs 40, is set to create new jobs.
He said:
"This is an exciting company in a niche sector which understands its market and is developing new products accordingly.

"The Business Link service provided not only access to funding, but also with advice on export, staff development and business planning.

"I am confident that their sound strategy and considerable expertise will continue to drive the business forward."
MORE INFORMATION: Jane Grant or Tracey Hewlett 01926 425533