[30 JUN 99] BUSINESS LINK PRESS RELEASE
Computer Firm Is Brimming With Health

The order books at a Coventry computer firm are brimming with health thanks to some advice from The Chamber's Business Link service.

Binley-based P C Doctors Ltd supplies' design and build' PC hardware and customised software to businesses and private individuals - backed up by a system maintenance service.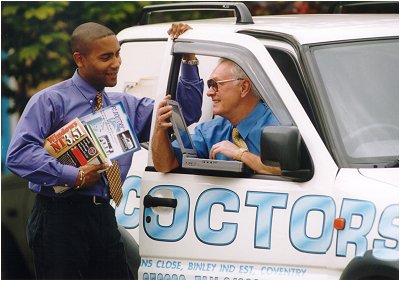 (LEFT TO RIGHT) MR ANDY DILLON FROM PC DOCTORS LTD WITH JEFF BROCKWELL, BUSINESS LINK ADVISER FROM THE CHAMBER

The firm was set up in 1994 by tele comms entrepreneur Andy Dillon who was quick to spot an opportunity in the fast-growing computer sector.

At first, the business operated in small retail premises with a local customer base. It has since expanded into new 1,275 sq. ft industrial premises, and now employs six staff.

According to Andy, the business is still growing fast with turnover set to double again this year.
"After 5 years in the mobile phone business, I could see that computers would be the next big market and decided to set up on my own," he said.

"The extensive support service is attracting work from firms with networked systems and we are now winning contracts from larger companies all over the UK."
Recent deals have included Coventry City Football Club and the Welsh Rugby Union's headquarters.
Andy first contacted Business Link adviser Jeff Brockwell as a business start up five years ago and said that he regards Jeff as his business mentor'.
"Jeff is not only a sounding board for new ideas, but he is also always finding ways to develop the business and increasing efficiencies.

"His advice has helped steer us as we have diversified into new and more complex markets and products."
Jeff Brockwell said:
"P.C Doctors' success stems from a good understanding of its booming market place. It's an exciting company which is constantly developing new services in accordance with the rapidly changing world of computers.

He continues, "I am confident that their sound strategy and considerable expertise will continue to drive the business forward."
MORE INFORMATION: Jane Grant or Tracey Hewlett 01926 425533