[05 JAN 01] BALLINGERS NEWS
Work Starts To Remember Killed Teenager

Work is due to start this month to create a garden in memory of a student who died in a car accident last year.

Louisa Smith, a sixth former at Kingsley School, and three friends were killed when their car went out of control and hit a tree at Marton almost a year ago.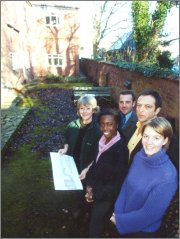 Her classmates decided to transform some land at the school in Beauchamp Avenue into a garden of memory and plans are now finished.
Two local companies - building supplies firm Ballingers and DJL Construction - have given their time free to create the garden next to the sixth form centre.
Ballingers have donated the services of their landscape designer Bev Ferris and supplied materials at a special discount while DJL staff will do the work.
There will be four areas to the garden, one of which will be specially dedicated to Louisa's memory. It will include a water feature, plants that attract butterflies, and a work of art made up of sponsored brass tags.
Ann Greensmith, deputy head teacher, said the sixth form had given their ideas for the garden and were looking forward to work starting.
She said:
"The plans look lovely and everyone is very excited about the project. The girls have had a great input and a great deal of thought has gone into the project."
PICTURED:
(front from left): Bev Ferris, Claire Johnson-Cole, Charlotte Lea; Back from left: Dean Jones (Ballingers), Davie Lea (DJL)