[03 APR 00] BENFIELD GROUP PRESS RELEASE
Benfield And Hall Brothers Pull Together

Two of Coventry's oldest building names are pulling their weight for the good of their trade this week.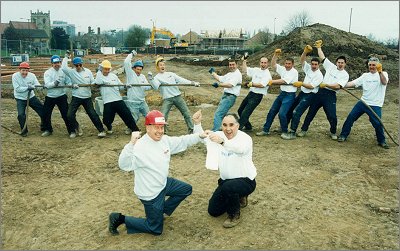 CLIVE BENFIELD (LEFT) AND BOB HALL SUPERVISE TUG OF WAR TRAINING

Benfield Homes and Hall Brothers, who were both founded in 1933, have come together to promote National Construction Week.

The two firms have development sites on opposite sides of Woodway Lane in Walsgrave but will join them together in unusual style when they take each other on in a tug of war contest.

Clive Benfield, managing director of Benfield Homes, said the idea of the competition was to illustrate how companies across the country were coming together to show the industry in a good light.
"National Construction Week, which starts on 3 April, is a countrywide campaign to promote the construction industry and is designed to show the progress it is making as well as underline the massive contribution it makes to the British economy.

"One of the themes for the week is 'Respect for People' which will highlight equal opportunities in construction and the way site working conditions and health and safety have improved. We thought it is was also a good idea to show that firms who may be rivals can still respect each other.

"Benfield Homes and Hall Brothers are members of Confederated Builders, a consortium of local construction firms who team up for projects beyond their individual pockets. That sort of co-operation is good for the industry and helps us pool ideas we can pass on to the customer."
MORE INFORMATION: Advent Communications 024 76 633636