[26 JUL 00] BENFIELD GROUP NEWS
Chrysalis Opens For A New Age

A new business centre formed to give young and small firms a helping hand has spawned its first new company.

Chrysalis Business Centre, which is based at Tower Court in Foleshill, has been set up to help companies move up the business ladder.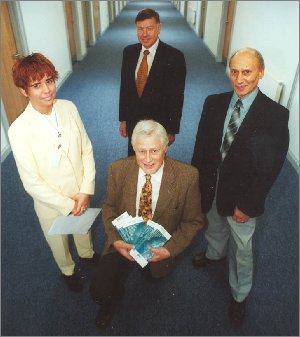 (left to right) Debbie McIlhone (PPD), Clive Benfield, David Jones (PPD). Front: Colin MacLeod
Presentation Products Direct, which supplies audio-visual presentation equipment, moved in this week and will shortly be followed by two more new companies.
Chrysalis is based on the fourth floor of the former Courtaulds Building on Foleshill Road. It offers tenants flexible occupation terms, full support services, conference facilities, access to leading edge electronic data link services and business advice.
The 20 office suites, managed by Portfolio Property Management, have already attracted high levels of interest from across the Midlands.
PPD managing director Colin MacLeod said:
"We were attracted by the profile of Tower Court, which is a landmark building, the relationship with other IT-based companies in the building and the business support on offer."
Confederated Builders - a consortium comprising Coventry-based Deeley Properties and Cromwell Developments, part of the Benfield Group - is behind the £6 million transformation of Tower Court from a derelict industrial site into a state-of-the-art office complex.
Clive Benfield, of the consortium, said: "We are delighted to welcome PPD to Tower Court. It is just the sort of company the Chrysalis Business Centre was set up to serve.
"It has definite plans for growth and the flexible terms and business support the centre offers are ideal for its needs. We wish PPD the best of luck."