[16 FEB 01] BENFIELD GROUP NEWS
Foundation Stone Takes Centre Stage Again

A piece of industrial history has finally been returned to its rightful home in Coventry after gathering dust in a basement for over ten years.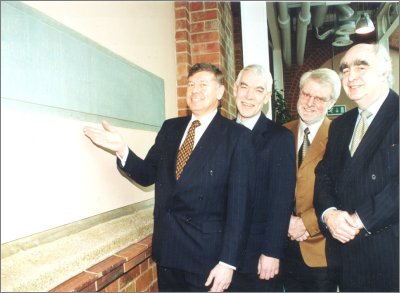 FROM LEFT: CLIVE BENFIELD, SIMON BREARLEY, CALVIN WOODINGS AND PETER DEELEY WITH THE STONE
Calvin Woodings discovered the foundation stone from the original Courtaulds Research Operation building, where the first ever man-made fabric was produced, lying forgotten at the company's old building in Lockhurst Lane.
Confederated Builders - a consortium of Deeley Properties and Cromwell Developments, part of the Benfield Group - have now placed the stone in the reception area of Tower Court - the new name for the refurbished Courtauld's headquarters
Mr Woodings, who worked for Courtaulds up until 1998, revealed that the historic find was part of an interesting coincidence.
He said:
"It's great that the foundation stone will be returned to its original home on the Foleshill Road - it marks an important era in Coventry's history.

"Finding the stone came about purely through a conversation over the garden fence with Peter Deeley who, by chance, mentioned that they were looking for something to commemorate the history of what is now Tower Court.

"By coincidence I had been an employee at Courtaulds for over 35 years and knew there was a foundation stone which had been moved from the site. I had a feeling it would have been taken to the Lockhurst Lane site, and fortunately I was right.
Mr Woodings and Martin Curtin of Deeleys donned hard hats to search for the stone and found it in the Lockhurst Lane basement as expected.
Deeley Properties' chairman Peter Deeley hopes the foundation stone will remind people of the significance of the site.
He said:
"It was purely by chance that we actually came across the original stone but we are very pleased that we did.

"It serves as a reminder of what Coventry has done in the realms of manufacturing and science and nothing could be more fitting than putting it back where it came from."
Confederated Builders is behind the £6 million transformation of Tower Court from a derelict industrial building and now Mr Deeley believes it has a stirring monument.
The building, including the famous clock tower, has undergone a £6 million refurbishment by Confederated Builders which has transformed it into a state-of-the-art business complex which will create around 300 jobs.
Business services group Capita has two floors while a separately managed business centre with 20 serviced office suites for new and growing companies has proved highly successful.
The focal point of the building is an impressive glass frontage while the famous Courtaulds' clock has been made to chime again.
Simon Brearley, who started work at the Foleshill Road site and is now Operations Director for Acordis Cellulosic Fibres, performed the official ceremony.