[06 SEP 99] CHAMELEON MENSWEAR PRESS RELEASE
Chameleon Changes Sky Blues Colours

A Warwickshire business has guaranteed Coventry City will be the smartest team in the Premiership after signing a new sponsorship with the Highfield Road club.

Chameleon Menswear, based in the West Orchards Shopping Centre, Coventry, has supplied 40 Boss suits, as well as shirts and ties, to the first team squad and management at the club.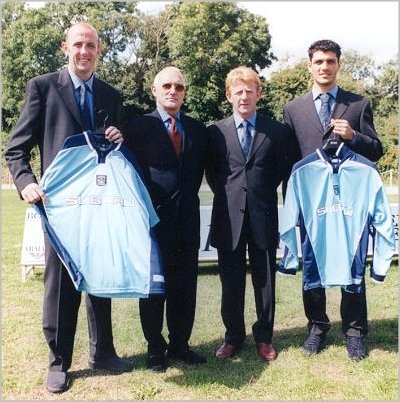 LEFT TO RIGHT:
GARY McALLISTER, DAVID GODFREY, GORDON STRACHAN, JOHN ALOISI
Players will wear the suits to home and away games and for other official functions.
It is the second year Chameleon has been the club's official men's outfitter and is one of a small number of companies to have struck a similar deal among soccer's elite.
Chameleon owner David Godfrey has been a Coventry fan all his life – but now has a keen interest in the club on and off the pitch.
"I have always followed the club closely and when the opportunity arose to make the link formal, I jumped at the chance.

"We agree the basic design of the suits with the club and then have two fittings before the players actually wear them. This year's suit, which is charcoal, has proved popular and looks extremely smart.

"We feel the link is good for business. Not only do players now use the business, especially some of the younger ones, but people have become more aware of Chameleon as a result of the sponsorship."
Mr Godfrey set up Chameleon 12 years ago selling exclusive menswear including clothes by Kenzo, Boss, Versace, Armani and Toni Gard among others. He also has a branch in Cheltenham.
His tailors had to deal with a variety of shapes ranging from diminutive manager Gordon Strachan to 6ft 6ins goalkeeper Morten Hyldgaard.
Mr Godfrey adds:
"All the players have very big shoulders and strong upper bodies but they do vary amazingly in size. Goalkeeper Magnus Headman has a 46 inch chest which would normally mean a 40 ins waist – but we have to reduce that by eight inches!

"His number two, Raffaele Nuzzo, has the longest arms we have ever encountered and we are having a shirt made especially for him.

"I think the players appreciate looking smart and it certainly gives them a very well-prepared, professional look.

"I used to go to Highfield Road and just enjoy the matches but now I find myself checking out what the opposition are wearing before and after the games! I think we stand up very well in comparison."