[07 MAR 00] CITY CENTRE COMPANY COVENTRY NEWS
Free Wees A Go-Go
BY ANTONY HOPKER

People taken short in Coventry city centre could soon find themselves paying for a visit to the smallest room.

The City Centre Company is considering having a toilet staffed by an attendant as the solution to the long-running crisis.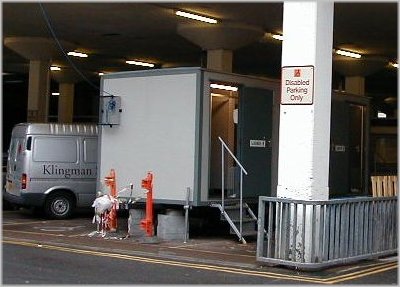 TOILETS IN BARRACKS CAR PARK, COVENTRY CITY CENTRE
[photograph by Chris Studman, November 1999]

The toilets in the Upper Precinct were closed last year after scores of complaints about their filthy condition. Councillors decided that because of their design it was impossible to make improvements to bring them up to modern standards.

Since then, people needing to go to toilet have been forced to use temporary facilities by the Barracks car park.

Now the City Centre Company, which is responsible for managing the facilities in Coventryís shopping area, is looking at further options with the city council.

Chief executive Liz Millett said it was vital to offer improved amenities to attract visitors into the city centre.
She told members of the city councilís Economic Regeneration Policy Team that it was a difficult issue they had to resolve before shoppers went elsewhere.
She said:
"We must find a location for permanent city centre toilets."
City council leader John Fletcher said the solution may be to charge people for their use.
He said:
"Free toilets these days, whatever city you go to, tend to be at the level of the toilets we used to have in the city centre.

"I donít believe people would object to paying a small fee if there was a high standard.

"The sites are distinctly limited. The reason why the ones in the Upper Precinct were closed was because it was impossible to maintain them in a proper way because of the way they were built.

"We need to look at this with some urgency."