[23 MAR 00] CITY CENTRE NEWS
Coventry Shops Fly Flag For Sunday Trading
BY ANTONY HOPKER

Shops in Coventry are preparing for a bumper day next week when several big stores join the ranks of those opening their doors to customers on Sunday.

A huge banner hanging from the glass dome of West Orchards means that shoppers cannot fail to notice that the centre is open for business.

Marks & Spencer, WH Smith, Tie Rack, Coventry City FC and Goldsmiths are among the shops in West Orchard Shopping Centre adding their names to the successful experiment on 2 April.

The newcomers have swelled the number of city centre stores open on Sundays to almost 80 and more are joining the scheme as the weeks pass. Boots and C&A are also opening from 2 April.

The banner, which is more than 8 metres long and 3.5 metres high, is the largest ever produced by its manufacturers, Warwickshire company Stratford Graphics, and boasts that 35 of the centre's stores will now be open in Sundays.

.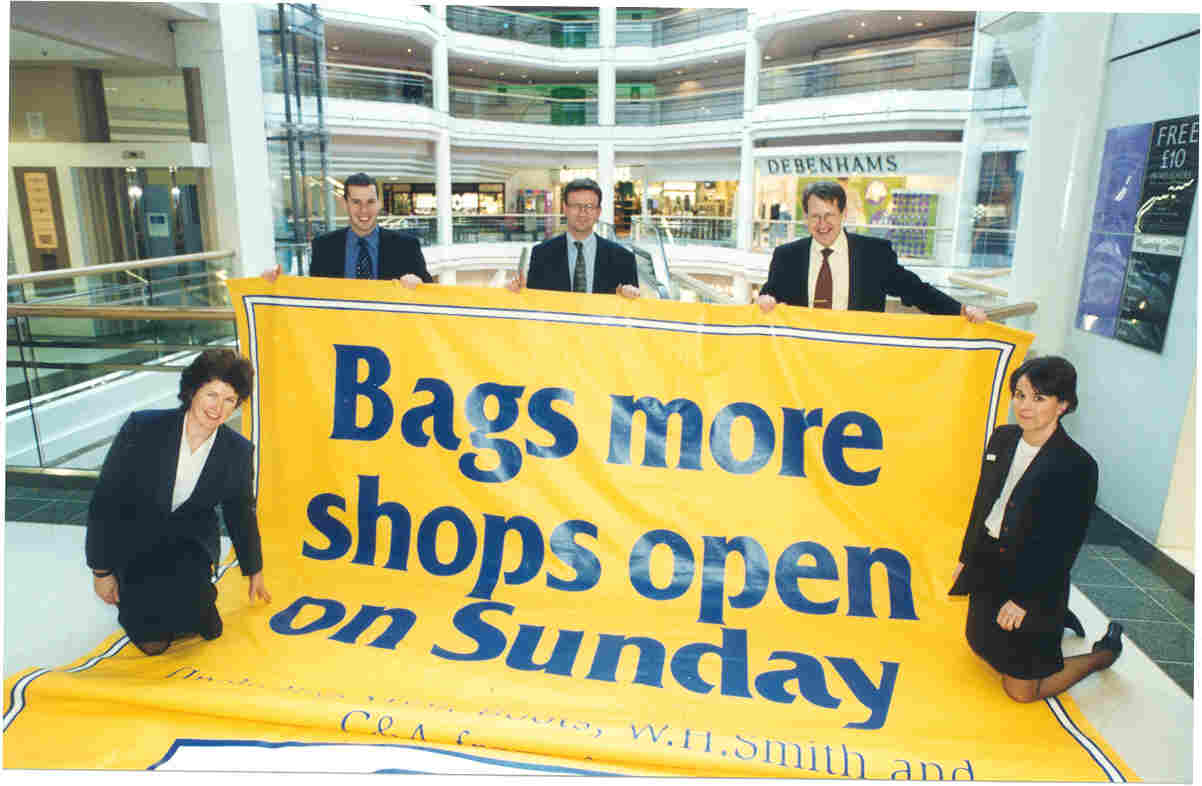 Paul Haynes, West Orchards Centre manager said:
"Sunday shopping in Coventry has got off to a successful start, but we want to make sure everyone is aware of just what is available in the city centre seven days a week and that West Orchards is firmly behind the initiative.

"There is probably no better advertising space to reach shoppers and the area under our dome can look a bit empty after we take down the Christmas decorations."
Shirley Kent, of the City Centre Company, which is behind the Sunday initiative, said that 2 April was a watershed in seven day trading.
She said:
"To have such well-known names coming on stream gives Sunday opening a fresh momentum. We are currently planning a series of events to draw still more people into the heart of the city."