[23 APR 00] CITY CENTRE COMPANY PRESS RELEASE
Red Roses For St George's Day

The City Centre Company is urging people to transform the festival of St George into 'Red Rose Day'.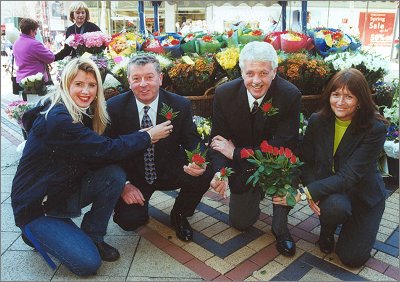 FLOWER GIRL KIRSTYN STOKES, FIANCÉE OF FLOWER STALL OWNER JIM MCEVOY, SHOWS RED ROSES TO ROGER BACHE, PATRICK FOX AND TONI GARRATT OF THE CITY CENTRE COMPANY

The company's staff will each wear a red rose on St George's Day, which this year falls on Easter Sunday, 23 April.

It is hoped the idea will catch on with increasing effect year by year until St George's Day carries as much significance for the English as St Patrick's Day for the Irish, St David's for the Welsh and St Andrew's for Scots.

Coventry has more reason than most for doing so. Legends from the Middle Ages say the patron saint of England was born in Coventry and in theatre productions as late as 1875 he was closely linked to the Lady Godiva story.

Roger Bache, of the City Centre Company, which promotes and manages the city centre, said:
"The English do not seem as keen as the other UK nations to celebrate their patron saint, but we hope to change that, in Coventry at least.

"The shamrock and emerald green apparel is much in evidence on St Patrick's Day, the Welsh display daffodils on St David's Day, while the Scots are never slow to celebrate the festival of St Andrew.

"The rose is synonymous with England so we thought it would be a good idea to encourage people to celebrate St George by wearing red roses in their buttonholes. We hope this will become something people will do annually in Coventry.

"Of course we shall continue to encourage people to celebrate St Patrick, St David and St Andrew as well."
The roses for the City Centre Company staff are being supplied by Jim McEvoy from his flower stall next to the Precinct fountain.
"A lot of people have forgotten about St George's Day," he says.

"It needs to be revived. Other countries keep their traditions going. In fact the English, Scots and Welsh help the Irish to celebrate St Patrick's Day!"
There will be no Sunday trading on Easter Day, but the City Centre Company staff will wear their red roses in the days leading up to it.
Traditionally St George rode in front of Lady Godiva in the city's annual carnival processions. He was reputed to have been born in Caludon Castle and there was a chapel dedicated to him in one of the medieval gate entrances to the walled city.
There is even a 15th century wood carving of St George fighting the legendary dragon in safekeeping in the city's Herbert Art Gallery.
The first person to place him in Coventry was Richard Johnson, 16th century author who penned 'The Famous History of the Seven Champions of Christendom'. He wrote that St George was born in a local castle.
Edward III, who had family connections with city, is also thought to have played some part in deciding the origins of the mythical patron saint.
MORE INFORMATION: Advent Communications 024 7663 3636