[28 SEP 00] CITY CENTRE COMPANY NEWS
Many Cooks Heat Up The Broth

Aprons are being pressed and woks seasoned as city chefs prepare to compete for the title of Coventry Chef of the Year.

The competition, which will take place on Saturday in the city centre is part of the City Centre Company's annual International Food Festival.

Local chefs will compete against each other under the watchful eye of a judging panel, which will include TV celebrity chef and local lad Toby Tobin plus international chef Bernd Schumacher.

The six competitors for this year's title are:

Tom Brooks, Head Chef at the Forte Posthouse Hotel; John Clinton, Head Chef from the Courtyard by Marriott; Charlie Brain, Executive Sous Chef at the Coventry Hilton; Ian Gibbs, Head Chef at the Windmill Village Hotel, Darion Smethurst, Head Chef at Millsys Café Bar and Bistro and finally, Richard Carrington, Commis Chef at the Village Leisure Hotel.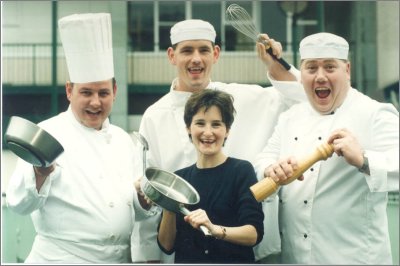 City Centre Company's Gillian Lawless with (from left) Darion Smethurst of Millsy's, Tom Brooks of the Forte Postehouse and John Clinton from the Courtyard by Marriott.
The challenge is to produce a delicious dish in only forty minutes.
The competition, which was won last year by Iqbal Ahmed, is part of Coventry's annual Food Festival and has proved so successful that applicants actually had to be turned away this year.
The festival also includes a three day French market with 30 stalls of cross channel delights to tickle the local tastebuds.
Gillian Lawless, Events and Promotions Manager of the City Centre Company said:
"The market means that the event lasts for three days and will hopefully attract people to the city centre for the main event on Saturday which promises to be a real gastronomic treat."

"All eyes on Saturday will certainly be on the chefs as they battle for the prestigious title of Coventry Chef of the Year.

"We can rest assured that no fork will be left unturned, and no egg unbeaten in the race to prepare the most sumptuous dish for the panel of judges."
Contestant Tom Brooks is looking forward to the competition and to meeting other local chefs.
He said:
"I am looking forward to meeting the other contestants, the shifts that chefs work make it difficult for us to meet up and I am looking forward to exchanging ideas with them.

"I have participated in a couple of competitions like this and I really enjoy them.

It is important for the industry to get people in the local area interested in cooking and I would love to see more competitions and events like this."
Celebrity judge Toby Tobin, will also be showing off his culinary skills at the festival, which is a bit of a home-coming as he was brought up in Priors Marston and had his first taste of kitchen life at the Butcher's Arms in Priors Hardwick.
He trained as a chef at Stratford College and has since visited the college on a number of occasions to take tutorials.