[17 NOV 00] CITY CENTRE COMPANY NEWS
Tanni To Trip The Light Fantastic

Paralympic gold medallist Tanni Grey-Thompson will be in Coventry on Sunday with evangelist J John, the Sky Blues' Magnus Hedman and other celebrities to turn the Christmas lights on.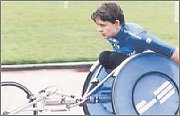 Tanni, who scooped four gold medals at the Sydney Games this summer, will accompany Coventry's Olympic 800 metres star Andy Hart and UK Athletics supremo Dave Moorcroft.
Coventry City goalkeeper Magnus Hedman and evangelist J John will also be there to help the Lord Mayor of Coventry, Cllr Sheila Collins, illuminate the new light show.
There will be music, fireworks and a Christmas parade, which will wind its way through the city streets.
Gillian Lawless, events and promotions manager for the City Centre Company, has organised the day's events and is confident of attracting another large crowd.
She said:
"We are hoping around 15,000 people will come into the city centre for the event which is always a highlight of the festivities.

"Dave Moorcroft promised to bring along some Olympians and we are delighted that Tanni and Andy will be with us.

"Tanni was the star of the Paralympics and is the biggest name in her sport by a long way.

"Andy represented not only Great Britain but also Coventry out in Sydney, while Dave is a former world record holder."
The grand parade will start at 4pm and will travel from Priory Street, to High St, Broadgate, Ironmonger Row, Cross Cheaping, Trinity Street, Broadgate and then back to the start.
Cllr Collins will officially welcome guests and turn the lights on at 5pm, also sparking the fireworks display.
An extra £40,000 has been spent on decorations this year, making a total of £120,000 on an array of glittering set displays and twinkling lights.
Shoppers approaching the city centre from the southern side will see that Greyfriars Green has become a focal point with new free-standing lighted sculptures centred on the Christmas story.
The western entrance to the shopping area through City Arcade will be a tunnel of light with a shimmering canopy of new displays and special attention is also being paid to Hertford Precinct, the Godiva canopy and Cathedral Lanes.
The Precinct shopping area, as usual, will be ablaze with colour, and the centrepiece is a 30 ft Christmas tree specially selected from the Wyre Forest..