[30 NOV 00] CITY CENTRE COMPANY NEWS
City Centre Company Zones In With A New Team

High-profile managers will be taking control of sections of Coventry city centre after the area was split into three zones to improve efficiency.

Three zone managers have been appointed by the City Centre Company, which controls the day-to-day running of the central area, with the simple brief: "Get to know your area."

The managers, who are already in their posts, head teams of nine people, and will become increasingly visible as they patrol their zones.

Mark Nicholls, the City Centre Company's customer services manager, said:
"We have divided the city centre into the shopping area, the cathedral and university area and the western side which takes in Skydome, Spon Street and The Belgrade Theatre.

"We want our zone managers to be out and about learning about their area of responsibility. They will become a familiar sight to shopkeepers, businesses and those members of the public who regularly frequent their zone.

"They will provide customer service and be local points of contact for people requiring assistance. There will be back up via radio contact with our control room. We intend to rotate the teams so that eventually they are familiar with every zone and are well known throughout the central area."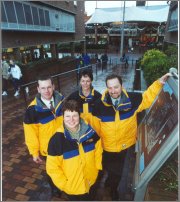 The managers, who will be easily recognised in their bright yellow all-weather jackets, are Gill Reading, Annette Ward and Tony Golding.
Birmingham-born Gill is manager of the central shopping zone. She has worked in Coventry for 12 months during which time she was employed by British Dressage at the National Agricultural Centre, Stoneleigh. She moved to the area from Leeds where she worked in the Civil Service.
Annette Ward was born in Essex, but has lived in Kenilworth and then Coventry for the last 31 years. She was a security manager at Boots in Coventry for five years and she is manager of the Cathedral and University zone.
Tony Golding, manager of the Skydome zone, is Coventry born and bred and lives in the Tile Hill area of the city. He worked in the bus industry for nine years and in vehicle rental for 10 years. He is a season ticket holder at Coventry City.