[25 JAN 01] CITY CENTRE COMPANY NEWS
More Cameras Focus On City Car Parks

Nearly £200,000 is being spent on new security cameras in Coventry to keep an eagle eye on the car parks in the city centre.

They are being installed to reinforce the security at car parks that are already acknowledged as the safest in the region.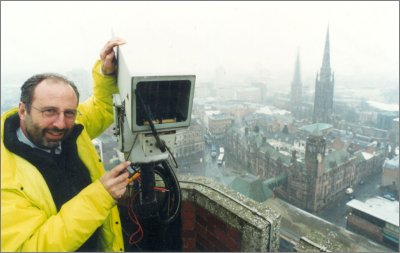 NICK MIDDLETON OF THE CITY CENTRE COMPANY INSTALLS A NEW CAMERA
The new top-quality cameras are the very latest design and are linked to the City Centre Company's central camera control room that is manned 24 hours a day.
The cost of improved and new lighting in the car parks and additional cameras has been met by a Home Office grant of £150,000.
The City Centre Company has found another £33,000, through its members' contributions and sponsorships.
Roger Bache of the City Centre Company said:
"We successfully applied for a Home Office grant to improve car park security even though ours are already rated among the safest in the country, because we want to maintain our very high standards.

"The new, high-definition cameras, supplied by Photoscan, are state of the art and bring our total camera stock in the city centre to 139, all of which are managed 24 hours a day by our control room staff.

"In addition, we are improving existing car park lighting and fencing."