[06 FEB 01] CITY CENTRE COMPANY NEWS
Glass Roof Arrives In Lower Precinct

Work to install the glass roof that will cover the newly re-developed Lower Precinct in Coventry city centre will start this week.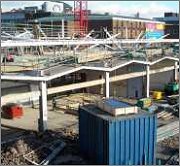 Sections of the glass roof will start arriving this week. The whole shopping mall is to be covered by the time the redevelopment work is completed in the autumn. The refurbished shops will be ready for re-fitting in June.
The delivery of the glass, which is so tough that people could walk on it, should not get in the way of any vehicles or pedestrians in the city centre.
Peter Collard of the City Centre Company said:
"The delivery of the roof will take us another step nearer to the Lower Precinct development taking shape.

"Visitors to the city would have noticed the huge white frame supports which have already been built to hold the glass roof sections in place.

"I'm sure visitors to the city will agree, that the development and investment by Arrowcroft and Scottish Life, once completed will make a huge improvement for shoppers in Coventry."
Terry Evans, Project Manager for Costain Skanska said:
"The work on the development is running to schedule, with an anticipated completion date of autumn this year.

"The erection of the glass roof will make a huge difference to how the development looks and will allow us to continue the next stage of works on the bottom and top floors of the development.

"We aim to have the shops available for shop fitting by June this year, this will allow the new retail units to begin their preparation for the grand opening in autumn."
Visitors to the city can get an idea of how the development will look when it is finished by looking at the architect's drawings on display panels around the building site.
There are also regular updates at
www.lowerprecinct.com