[14 FEB 01] CITY CENTRE COMPANY NEWS
Cupid Stunt Puts City In The Mood For Love

Cupid has been spreading the air of romance in Coventry today to help the city get in the mood for Valentine's Day.

A "living sculpture" of the Roman god of love has been in the Precinct to entertain visitors to the city centre.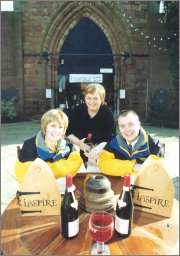 The bow-wielding cherubic deity is just part of a stream of activity laid on by the City Centre Company to celebrate the most romantic day of the year.
Characters in historical dress have been handing out leaflets for free prize draw. The person whose entry is pulled out of the hat will win a meal for two at Inspire café bar plus tickets for "Leader Of The Pack" at the Belgrade Theatre.
Gillian Lawless, events and promotions manager for the City Centre Company, said it was hoping for a change in the weather for Cupid's sake.
"We have hired a top "living sculpture" artist to appear and we are just hoping he doesn't sit and shiver and give the game away.

"Most people's thoughts turn to romance around Valentine's Day and we are hoping our winner and his or her partner has an enjoyable night at Inspire Café Bar and the Belgrade."
Pictured are Karen Aspin and Jamie McIntosh of the City Centre Company with Julia Priestly, catering assistant Inspire Café Bar