[27 FEB 01] CITY CENTRE COMPANY NEWS
Marconi Man Adds Muscle To City Centre Company

A major global business has brought a strong international flavour to the board of the ground-breaking company that manages Coventry city centre.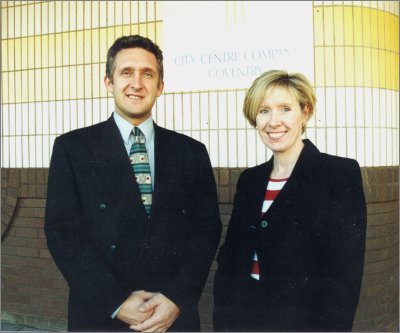 PAUL HARRIS WITH LIZ MILLETT OF THE CITY CENTRE COMPANY
Coventry-born Paul Harris, a Vice President of Marconi Communications, is the newest director of the City Centre Company that manages the day to day running of the city's hub.
Liz Millett, Chief Executive of the City Centre Company said:
"Marconi Communications has a strong base in Coventry and has new and vibrant links with our city and therefore it is wholly appropriate that it is represented on our board of directors.

"Mr Harris is a local man with great feeling for his home city. He brings a huge amount of international experience as we progress our strategy to take Coventry to the forefront as a regional centre."
Mr Harris is Vice President of Marconi's Europe, Middle East, Africa, America Estates, with a budget of £300 million. He oversees property strategy, management, development and strategic workplace environments.
He held a number of managerial posts in seven years at GPT in Coventry before moving over to Marconi Communications in 1997. He is married with two daughters.