[01 MAR 01] CITY CENTRE COMPANY NEWS
Hats Off To City Deerhunters!

The two men who completed the capture of Coventry's most unusual wildlife inhabitant have been presented with a fitting reward by colleagues.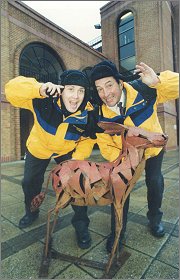 City Centre Company Customer Service Assistants Mick Connor (left) and Bill Austin (right) cornered a Muntjac deer in Leigh Mills Car Park after the animal had roamed the city centre for several weeks.
And when they turned up for work this week colleagues had bought them a deerstalker trapper's hat each!
Bill explains:
"The deer had been spotted several times around the city centre and when we saw it we followed it across the Bond Street Car Park.

"We caught it when it darted into a toilet block and it was handed over to the RSPCA.

"It is not something we come across on a daily basis and our workmates thought it was particularly amusing!

"It just shows that the City Centre Company looks after the well being of all visitors to the heart of Coventry."
The animal was treated for a minor injury to a leg and has been released into the countryside.
Mick added that the capture was slightly less energetic than pinning down a metal sculpture of a deer that was part of the city's Christmas decorations.
SEE [20 FEB 01] DEER CAUGHT IN CITY CENTRE TOILET