[30 APR 01] CITY CENTRE COMPANY NEWS
Street Festival Takes To The Skies

Coventry's International Street Festival is set to be a soaring success thanks to the latest stunning aerial attraction.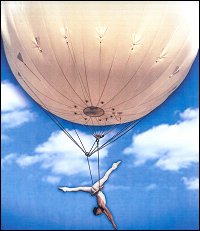 The Heliosphere, where a trapeze artist performs ballet movements while suspended beneath a giant helium balloon, will literally be the high point of the Festival.
Music and street entertainment of the five continents will be staged throughout the city centre on the weekend of 5 and 6 May, but huge crowds are expected to witness the magical Heliosphere show.
As a spectacle it will be close to rivalling Ramon Kelvink's 'oscillating pole' act and his Millennium Eve high wire walk between the cathedral and Holy Trinity spires.
Gillian Lawless, events and promotions manager for the City Centre Company said:
"Ramon's high wire act was breathtaking, but the heliosphere is totally original and an utterly unforgettable performance-piece.

"We scoured the country to find an eye-catching main attraction for the Street Festival and I am convinced we have found it. It will leave all who witness it talking about it for a long time."
The huge heliosphere floats 20 metres (sixty feet) above ground and it rises and falls to a haunting musical soundtrack while the aerialist tumbles and turns on a trapeze bar hanging beneath it.
The balloon is tethered to two ground-based performers and on a calm day it can be controlled so accurately that the aerialist can swoop from the rooftops to steal the sugar lumps from a café-goer's saucer.
The heliosphere will attract huge crowds to Bull Yard throughout Sunday, 6 May.
It will be the showpiece of the city's biggest-ever street festival, where shoppers and visitors can take in a wide range of musical culture from Europe in Upper Precinct, Asia (Shelton Square), Africa (Hertford Street), Australasia (Bull Yard) and The Americas (Broadgate).
"We are celebrating the start of the summer and the beginning of our events programme with a real splash," said Ms Lawless.

"The city centre will be a blaze of colour and sound. We have scoured global culture to bring in acts that are new to the city and there will be an exciting mix of stage and street entertainment to make it the most stunning Street Festival anyone can remember."