[14 AUG 01] CITY CENTRE COMPANY NEWS
Coventry Getting Cleaner

Coventry city centre is now among the cleanest and tidiest in the country.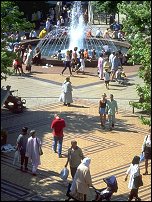 Independent, professional surveys show the city centre achieving rating figures higher than the mark that three years ago topped a national league table.
Gateshead Council topped the league in 1998 with a Cleanliness Index score of 70 out of 100 in the last national survey conducted by the Tidy Britain Group.
The City Centre Company, which is responsible for the day to day running of the central area, is independently monitored weekly to the strict Tidy Britain Group criteria and is consistently achieving scores higher than 70.
Roger Bache, the City Centre Company Operations Manager, said:
"We knew we had made a difference to the tidiness around the city centre, which is confirmed by the independent monitoring.

"A lot of credit for the improvement goes to English Landscapes, who have helped us to transform our city centre, but we are not sitting on our laurels.

"Our surveys are conducted to the same strict conditions used by the Tidy Britain Group and while it is pleasing to be achieving such consistently high scores, we are not content to remain at that level. We want to improve further and we have several ideas on how to do that."
Teresa Jennings, Regional Director of the Tidy Britain Group said:
"It is very pleasing to note that Coventry has raised its cleanliness levels by five points in the last three years and I commend the City Centre Company and the City Council.

"We work closely in partnership with the City Council in raising social awareness and we are satisfied that all our efforts are now bearing fruit."
The City Centre Company is in the process of merging with the city's tourism company, Coventry and Warwickshire Promotions to form a super-company to strongly the promote the whole of the city and surrounding areas.
Liz Millett, currently in charge of the City Centre Company, will become the Chief Executive of the new merged company.