[12 MAR 01] COMPLEX DEVELOPMENT PROJECTS NEWS
Pigeon Mess Removal Leads To A New Building

Coventry's historic ribbon factory is set for a new lease of life - but only after former residents had left their grimy mark!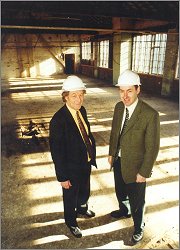 Complex Development Projects - Coventry City Council's partner in the Phoenix Initiative - bought the dilapidated property in New Buildings last month and has already agreed a deal to convert the ground and lower ground floors into a bar and restaurant, and the upper floors into loft apartments
But the company faced an arduous job before building work can begin for real in the coming months.
A group of pigeons had made the roof area its home for several years with inevitable consequences.
Director Brian Harrabin said:
"It took three men about four days to remove the pigeon droppings and they managed to fill more than 350 sacks!

"It was not the most pleasant of jobs but it had to be done and it allows us to start work.

"I am not sure how long the pigeons had been roosting there but they had clearly enjoyed one of the finest viewpoints in Coventry and had made themselves well and truly at home.

"I am reliably informed that pigeon droppings are good for the garden - but none of the guys seemed to keen to take their work home with them and I can't say I blame them."
The company is now trying to find out more about the building, which overlooks the new Priory Gardens and enjoys one of the finest views of Holy Trinity Church.
It was constructed as a ribbon factory in the 19th century, but was only used for that purpose for a few decades before the industry declined.
It later became the drill rooms and armoury for the Coventry Rifle Volunteers, housed a dance school on the top floor, and was used as the Exchange and Mart Store and a betting office.
Mr Harrabin added:
"The dance floor on which thousands of local people learned to waltz and foxtrot is still in place on the top storey, which has very high ceilings where the ribbon looms were situated."
CDP, which has offices in London and Coventry, recently announced plans to create a £12 million canal-side residential and commercial centre in the city.